Wolfgang Riebe is the most successful South African magician in the history of the country. He is the first and only South African magician to have been invited to appear at Hollywood and invited back again, and has performed in over 86 countries world wide, from the USA to Russia and every major city in the world from Singapore to Istanbul.
As a corporate magician, he is currently considered to be one of the top in the world, designing shows around company launches and conferences.
Having now specialized in the corporate market and having become a self-made business man by the age of 28, simply by doing what he loves, Wolfgang took the next logical step in his career and developed a Motivational Talk which not only utilizes magic as a tool, but includes real life experiences, stories & anecdotes of his travels.
Such as surviving running aground near the North Pole; watching Krakatoa erupt; exploring the Ice Cap in Greenland; diving the Cayman Fault; walking with the penguins in the Antarctic; experiencing the Bermuda Triangle and sailing force 12 hurricane's on the Atlantic. Book through Speakers Inc
Through this very different, entertaining and unique talk, based on personal experience, he has been received with huge success and has changed the lives of thousands of people.
You need an iconic world leader that WILL change mindsets and has;
✔ the ability to capture an audience within the first few seconds
✔ universal up to date knowledge and skills
✔ the experience to entertain your audience, while still focusing on skill sharing
✔ an abundance of original material and life experiences
✔ intense authenticity, passion and walks the talk
✔ a unique combination of magic & motivation to cement the message
THE 7 SECRETS TO BUSINESS & PERSONAL SUCCESS
60 – 75 minute inspirational keynote with mega take-home value
Wolfgang's most popular inspirational keynote. Can be customised around your theme. From a 75 min Keynote to a Full Day training seminar. Funny, entertaining, and packed FULL of Useable, Sustainable and Practical Life Skills.
✔ How to maximise your power, presence and awareness.
✔ How to conquering all obstacles and empower your life.
✔ How to clarify, expand and achieve your purpose and vision.
✔ How to impact the world with your intentions.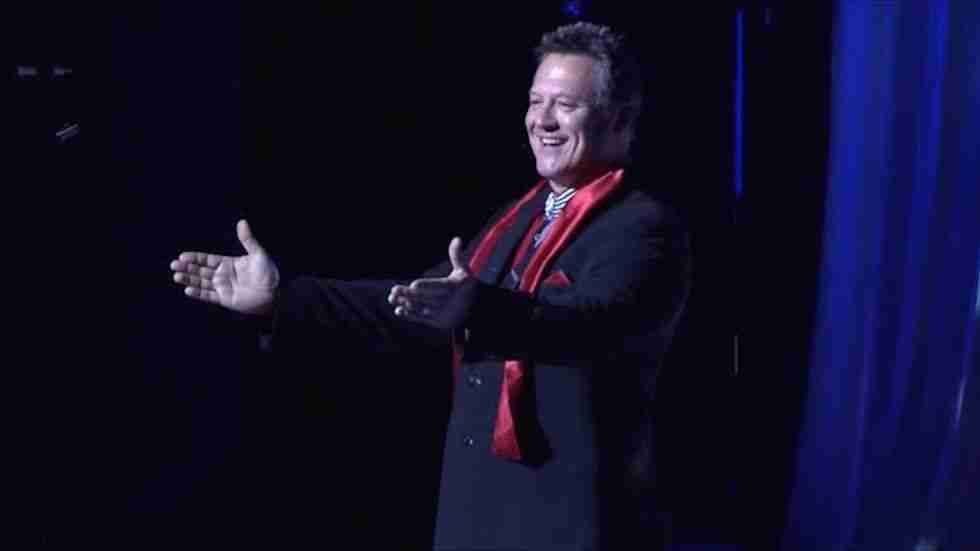 By using the word, MAGICAL as an acronym… Motivation, Awareness, Goals, Impressions, Change, Associations & Laughter are covered in a simple, unforgettable and entertaining manner.
60 – 75 minute inspirational keynote with mega take-home value
Wolfgang Riebe-International Magician most popular inspirational keynote. Can be customised around your theme.
From a 75 min Keynote to a Full Day training seminar. Funny, entertaining, and packed FULL of Useable, Sustainable and Practical Life Skills.
✔ How to maximise your power, presence and awareness.
✔ How to conquering all obstacles and empower your life.
✔ How to clarify, expand and achieve your purpose and vision.
✔ How to impact the world with your intentions.
UNLEASH THE GENIUS IN YOU!
45 – 60 minute life skill keynote/workshop with instant 'take-home' value
Unleash the genius in YOU!
It's easier than you think! You can improve your memory today!
✔ Do you forget where you put things?
✔ Have you ever forgotten an appointment?
✔ Have you ever forgotten the names of clients around you – never mind those that you just met?
✔ Have you ever forgotten to buy something at the supermarket which was part of the reason you went there in the first place?
✔ Is studying difficult for you and do you have a problem memorising important information?
✔ Have you ever forgotten your diary and had your whole day thrown out because of this?
Wolfgang can help you solve these problems…
In this keynote/workshop, Wolfgang Riebe-International Magician teaches a simple effective and easy to understand technique which stimulates the neurotransmitters in your brain, thus increasing your memory.
Wolfgang guarantees that each and every delegate attending this workshop will improve their memory by at least 300%.
✔ No more 'To Do' lists will ever be needed!
✔ You will be able to remember countless things in your mind!
✔ No more diaries needed to remember appointments!
✔ You will be able to learn new skills much simpler and faster!
✔ Remembering names and faces of clients and friends will be easy!
CHANGE THE WAY YOU THINK ABOUT MONEY
50 – 60 minute practical life skill keynote with instant 'quick fix' solutions
From whom would you like to learn about making money? Someone that was trained to 'sell' you financial products on which they earn a commission, or from someone that is a self made man and shares realistic, practical, tried and tested examples.
If you were to follow conditioned traditional beliefs and perceptions, Wolfgang who started his career as an entertainer, should never have made it in life. Yet today Wolfgang Riebe-International Magician is hugely successful, owns a number of companies, and speaks globally to thousands of people.
What's his secret? No complex financial terminology, or systems! It's all about a basic, hands on approach to working smarter with your money, seeing opportunities when they arise and how to take advantage of them.
This talk is aimed at everyone, from student, to housewife, to executive. You don't have to be business smart.
Wolfgang Riebe-International Magician covers topics which we all want to know more about: 4 Types of People & how they generate money; Costly mistakes People make; Investment opportunities: What they are & The Pros & Cons : Banks; Investment Houses; Precious Metals; Property; SME's; Mergers & Acquisitions; Retirement; Live life Frugally; Immediate Money; The ideal Financial Wealth Model; Lessons and advice on money matters nobody tells us about such as hidden costs.
LEARN AWESOME SPEAKING TIPS FROM A CERTIFIED SPEAKING PROFESSIONAL
This 60 minute keynote is packed full of tips and tricks to help you speak better
Learn to speak with confidence, authority and impact and become an effective communicator
✔ How many corporate conventions have you attended where the speakers have been dreadful?
✔ How often have you watched colleagues read their presentations directly off the PowerPoint slides?
✔ Have you ever dozed off during a colleague's presentation?
✔ Is your staff guilty of this? What about your management team?
Sadly, this is a bigger reality than anyone wants to admit!
Wolfgang Riebe-International Magician speaks in front of people. Over 1 million people live have experienced Wolfgang during his career!
He has been honoured by the global speaking industry with his CSP of which less than 750 speakers in the world can say the same!
Who better to teach you these skills, than a man that speaks for a living!
IS YOUR CUSTOMER SERVICE MAGIC OR TRAGIC?
Ideal for the hospitality industry, i.e. hotels, travel agents, cruise liners and air lines.
It takes months to find a customer, and seconds to lose one…
Here's a Keynote with a slightly different take on Customer Service.
Imagine, if you can, a person existing today that had stayed in hotels in over 140 different countries. Or someone that has flown with most airlines and who sees the world as his playground.
A person that has experienced all the ups and downs associated with international travel. Now imagine you could have this person share all this knowledge with your team, so as to improve your customer experience.
Wolfgang is your man! He has taken photos globally of exceptional (Magic) service and experiences, as well as bad (Tragic) experiences. For many years on cruise liners, Wolfgang escorted tour groups in most major world cities – and wrote reports on all! This knowledge is priceless. Couple this with years of flying around the world and speaking at events in exotic locations – few have this experience!
In today's world 'great' is no longer good enough! Average doesn't come into play!
✔ Do you want to know which airlines constantly deliver good service and who has the worst, and why?
✔ Which airports are the most passenger friendly? Which are the worst with regard to service delivery?
✔ What hotel groups offer the most comfortable beds? Which hotels rip you off the most for WiFi and how to get free Internet access around the world?
Wolfgang Riebe-International Magician is objective and factual. Photo evidence and true life experience go hand in hand with this eye opening, and at times very funny seminar. Do you really want to know what your customer thinks? What he/she finds important? How you can deliver 100% every time?
THE POWER OF SOUND AND HOW IT AFFECTS YOUR BUSINESS
CHANGING TIMES CALLS FOR A NEW APPROACH TO SALES
"Where human beings need water to exist, companies need marketing and sales strategies to survive turbulent times."
Selling is not only about belief, passion & communication. Years ago Wolfgang discovered the secrets of Cymatics and it's implication in understanding the 'true power' power of the word and it's importance in closing a sale. Wolfgang Riebe-International Magician has stood on platforms world-wide and truly understands the term, 'gift of the gab'!
Through the use of simple, practical, effective tools and techniques WILL shift your attendees perceptions on sales and marketing.
By tapping into, and understanding the unique secrets of Cymatics he gives you that 'new' tool to help you become a sales giant within your market.
Launched in Munich, Germany in September 2013 at the GSA Convention – an incredibly insightful, practical 60 minute Keynote on the power of the spoken word in sales and marketing.
No matter how experienced, or how young your sales force is, this talk will highlight a completely new insight into communicating effectively with clients and boost sales.
Delegates will learn:
✔ The origin of the word & the Cymatic implications
✔ The power of the word then and now
✔ Manifestation of thoughts into words and sales
✔ Using the world's most powerful words to boost sales
✔ Examples of the word & effective sales techniques in action
✔ Futuristic implications of the spoken word within sales
WOLFGANG RIEBE
LIVE IN THE NOW
City of Cape Town: Marius Crous: "I must say you were the topic of discussion when I walked into the office this morning. The magic you have combined with the speech definitely made an impact. From my side also a BIG thank you and may you have a great festive season." November 2013
SPAR KZN End of Year Function: Martin Schoeman: "Thanks for your attendance of our meeting on Tuesday. By all accounts all went very well and our members enjoyed your performance tremendously. Your MC of the LOS awards was superb." November 2013
Dr Reddy's PMG Dinner: Stephanie Moss Solutions: Tamsyn Strachan: "We have had only good reviews for the evening and the doctors are all commenting on how much they enjoyed you and your involvement and magic! As always it was a pleasure working with you! I look forward to working with you again in the near future." October 2013
EKOV Awards: Arno Smith: "Wou ma net weereens dankie sê vir 'n awesome experience by EKOV se jaarvergadering te windmeul kelder. Dit was great gewees!!!" October 2013
Educational Evening Peninsula All Suite Hotel: Annelize Ferreira: "Thank you very much for setting such a wonderful standard for this educational on Saturday Evening. As always you have been so professional and a Joy to experience! I really appreciate that you took time out to assist me hosting an outstanding educational. Everyone absolutely loved you." October 2013
For Entertainers, Comedians and Professional Speakers – Over 200 pages of alphabetically categorized one liner jokes for all occasions. A MUST HAVE for anyone in show business. Whether you are looking for a few good quick one liners for your current act, or just need a few funny fillers for a presentation, this book has over 2000 One Liner Jokes alphabetically categorized to suit many different occasions.
Collected by a professional in the business over many years and used in live shows all over the world. These are gags that work!
Travels from: Germany
Performance fee: On request