Vanessa Goosen Born in the 70's in South Africa, Vanessa Goosen had a bright future ahead of her. Beautiful both in and out, she reached the semi-finals of the Miss South Africa Beauty Pageant in 1994.
With her modelling career in full swing, she explored her passion for clothing and design and she opened an exclusive clothing boutique for men in Johannesburg. On recommendations from a friend and her then boyfriend, Vanessa looked at sourcing select items from Thailand. Vanessa is available to book through Speakers Inc
She found herself on a plane, leaving Johannesburg on the 10th of April 1994, to embark on what she believed would be the first of many such adventures. Before her departure, Vanessa's (then boyfriend's friend) asked her to kindly collect two engineering books from his brother whilst in Thailand and to bring them back to South Africa on her return … She gladly obliged …not giving any of it a second thought until she reached the airport …
Re-united with her family, Vanessa's struggle is far from over. She is constantly forced to confront the emotional and physical scars of her imprisonment in a harsh Thailand jail.
Her courage, deep sensitivity and personal experience of despair and devastating tragedy have enabled her healing process to touch the lives of others.
Vanessa shares her story of defeat, hope and triumph through inspirational talks as well as her new best seller, 'Drug Muled' (authored by journalist, Joanne Joseph).
Drug Muled has been in the top 3 best sellers for non-fiction each week in the Nielson's Ratings since its release in April 2013.
Today, through her Inspirational talks for corporate and private audiences, Vanessa Goosen shares her story of defeat, hope and triumph. She has now written a best seller "Drug Muled"
"Drug Muled is a view from the mule's side. Fast paced and written in the first person, it is Vanessa's view and conversation with herself and us about her predicament and the pitfalls of love. Joanne captures the tension, confusion, anger and desolation of Vanessa and takes the reader into the putrid smells and battles with mosquitoes and rats that make up Thailand's Lard Yao prison jungle. Intoxicating may be the wrong pun, but the book comes close." – Mathatha Tsedu, journalist and commentator "… a riveting, compelling and powerfully written narrative."
Jeremy Maggs, broadcaster
"Right from the opening line this gripping story, as told by distinguished broadcaster Joanne Joseph, makes for compelling reading. It is more than just an account of a bad turn of fate in
the life of a beauty queen – it is a thriller, excellently written, cautioning the gullible against falling prey to unscrupulous drug smugglers."
Riaan Cruywagen, veteran broadcaster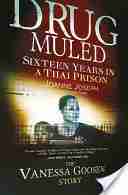 It's 1994 and South Africa is on the brink of freedom. On the verge of a big break in modeling, Miss South Africa finalist, 21-year-old Vanessa Goosen is caught up in every traveler's nightmare. Duped into carrying books with 1.7 kilograms of heroin hidden in them, she is arrested and tried on drug trafficking charges.
Travels from: Heidelberg, South Africa
Speaking Fee:
South Africa: R25,000
International: $5,000 + travel