Speakers Inc is a Professional Speakers Bureau, based in San Diego. Speakers Inc has branches in USA and Southern Africa. We were started a little over 24 years ago by Bronwyn.
Our mission is to help our clients find the best, most suitable SPEAKERS for their particular conference or event.
We represent South Africa's most renowned Professional Speakers as well as Entertainers, Sporting Celebrities, MC's and Comedians.
We also represent a wide array of International Motivational and Inspirational Speakers, Celebrities, Business and Conference Speakers based elsewhere in the Global Village.
Speakers Inc – Africa's largest Bureau have high standards of ethics and integrity with a hard-won reputation for honesty and good business practice, and thus choose to work only with like-minded people, who also believe in and subscribe to our "Four Pillars" – Honesty, Integrity, Loyalty and Trust.
We've put together a resource for you that makes it easy to find exactly what you're looking for, and even easier to interact with us so feel free to browse our website, view our different speakers, watch some video and read some thought leadership blogs and find your favourite favourite.
Speakers Inc is looking forward to working with you, and have no doubt you're going to love what we're able to put together for you!
Speakers Inc
With more than 25 years' worth of experience with the speaking industry, heading up one of the country's leading Speaker Agencies for more than 23 years, Bronwyn has worked with every top speaker in the country at one time or another.
She is a founder member and supporter of the Professional Speakers Association on South Africa, having sat on the board for nearly two years (the only agent to ever sit on a PSA board in the world – in the capacity of Speakers Inc – apparently) and worked with fellow board members to get the Association off the ground. Bronwyn was President of the Cape Chapter for 2017/18
Bronwyn was also the first South African Bureau Principal to belong to the International Association of Speaker Bureaus, represented in twelve countries across the globe by its 109 members.
In line with her vision of helping to create and maintain an industry that is honourable, ethical and professional, Bronwyn also sat on the committee of the Northern Territories branch of SAACI (the South African Association for the Conference Industry).
She has spent all of her career as owner of Speakers Inc pro-actively, aggressively and passionately marketing speakers she believes in, steadfastly building her business on the four pillars of Honesty, Integrity, Loyalty and Trust.
BRONWYN HESKETH – BUSINESS WOMEN OF THE YEAR FINALIST 2015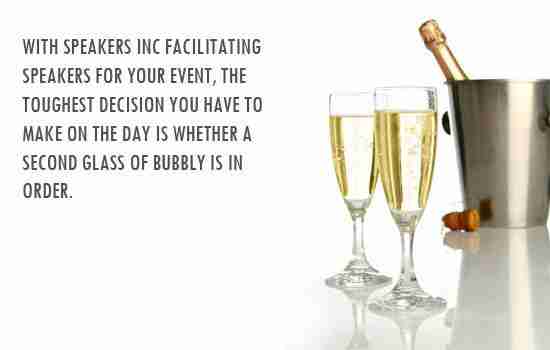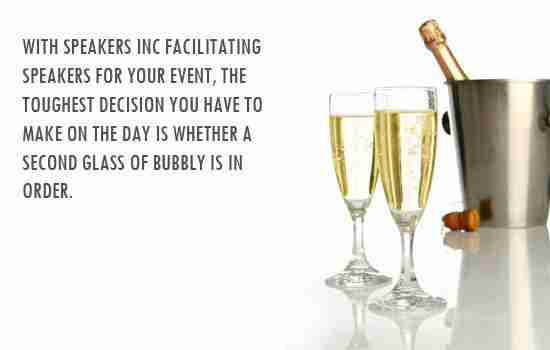 When we first started this business a little over 17 years ago, the idea was that we'd facilitate opportunities for companies to host events, launches, ceremonies, etc… in a way that was meaningful, and cost effective.
Speakers Inc has achieved that, and over the years, we've learned how to transform a stressful process into a seamless and drama-free experience for our clients.
It starts with a conversation. A conversation about what your event goals and objectives are, how the success of that event is going to be measured and what sort of budget you have available for the event.
We've hosted thousands of events over the years, and the insights we've gained from those successful events assists us in making recommendations for you around which type of speaker | entertainer | etc… would best suit your event, along with a profile and recommendation for the individuals we know will best rock that event for you.
This website enables you to view video clips of each of our presenters, as well as read through testimonials of each candidate for your event, and from there it's simply a case of selecting the presenter of your choice and having us take care of the rest for you.
From bookings and availability checks, through to facilitating transportation, accommodation, and the myriad of other little things that ensure a seamless process, Speakers Inc ensure that everything works first time, perfectly.
To find out more about how we can help you, touch base with Bronwyn or call 0861
9 Tips for choosing a professional speaker or entertainer for your event | conference
Choosing a professional speaker is a choice we assist you with. To take the head ache out of your planning and organisation to ensure your event runs smoothly and professionally
1. Decide on the Theme
It's no use looking for a wildlife speaker, if your theme is Future Global Trends. If you're not sure whether there are any speakers who will cover anything related to your theme – ask a reputable agent. They will certainly be able to help you.
2. Ask Around
The very best way to find a good speaker is by word of mouth. If a speaker is good, trust me, the word will spread. This is a really small industry and it doesn't take long for a speaker to develop a reputation – either good or bad.
3. Phone an Agent
Of course, I'm completely unbiased on this one. The value of an agent – I strongly believe – lies in his/her experience of which speaker addresses which topic best, to suit which kind of audience. However, beware! There are many people with Google and a cell-phone calling themselves agents – a good question to always ask is whether the agent has actually seen the speaker speak.
4. Shop Around
Again – a word of warning: there are agents; and then there are Agents! Ethical agencies are working hard towards a "one exit price" strategy with professional speakers, wherein their commission is paid to them from the speaker's fee, so that they don't have to "add on" to make their money.
In the past, it was more than a nit of a free-for-all, and some hapless clients have been saddled with bills more than twice (or three times!) the speaker's fee! A good way to find out what you're paying is to ask the speaker!!
Believe me, they'll also be delighted to help weed out the unscrupulous, greedy sods by telling you what their fees is. If an agency forbids you (or the speaker) to discuss fees – it's time you smelt a big, smelly rat!
5. Get references – verbal and written
Whether you book a speaker directly or through an agent, I believe it's always a good idea to get some references. Bear in mind that if an agent has seen the speaker in action, that should count as a strong reference in itself.
No agency worth its salt and remotely concerned about it's reputation would want to place a speaker who's not worthy of flying their (the agency's) flag.
If you're dealing directly with the speaker, get them to provide you with written and verbal references – and then, for goodness sake – check them! Phone the people. Remember that it's your reputation on the line, too.
6. Get a Contract
This is something that an agency will automatically do for you, s will any professional speaker worth their fee.
Check the fine print, though, particularly with regard to cancellation clauses – I know of one speaker who insists on a 100% cancellation fee from the moment you sign the contract, regardless of how long in advance you either cancel OR postpone the event.
This isn't a policy we endorse, so we don't work with that speaker, but for your own peace of mind, read the little words!
Something else to watch out for is travel costs. Some speakers will insist on flying Business Class, while happily most of them will fly economy, as long as it's a changeable ticket. Most speakers nowadays will want to do their own travel arrangements, as we prefer to do for our clients, too.
We try and save money for you wherever we can and if we are able to book a really inexpensive ticket because we know the speaker's booking around that time and can thus book non-changeable tickets, we do.
We absolutely believe that travel should not cost the same as the speaker's fee!
7. Insist on a Briefing
Many of our top-notch speakers are simply too busy speaking (and traveling to speak), to be able to do personal briefing meetings. However, at the very least they should agree to a telephonic briefing.
The best way to make sure the speaker knows what you expect from him on the day is to give them both a telephonic and written brief. This way they have a black and white "back up" of their conversation with you.
Any decent agency will send you a Pre-Appearance Questionnaire, which will greatly help you in getting the relevant information through to the speaker.
This way you will also have something to fall back on, in the unfortunate event of a speaker not fulfilling his brief to you.
I once worked with a speaker who completely ignored the detailed (three hour long) verbal briefing as well as written (I personally delivered the pack of documents to him, in his hands) brief. He simply got up on the stage and delivered his usual "canned" presentation.
He didn't give a hoot who he was speaking to, and even referred to the Chairman of the Board who had spoken immediately before him, as "that oke"! Needless to say my client was underwhelmed to say the least, and they haven't booked him since. Even more needless to say, neither have we!!
8. Check the technical rider
The what?? Yep, the technical rider. In the old days, we used to call this the speaker's equipment requirements.
But that phrase is SO last century. Seriously though, check out what they need carefully. Most venues do not supply proximas (that's a data-projector, by the way) and CD sound systems as standard equipment, and this could impact quite dramatically on your budget.
9. Do they belong to a Professional Association?
Finally, South African speakers can join the Professional Speakers Association of South Africa which is affiliated to the International Federation for Professional Speakers. They have to sign (and abide by!) a code of conduct and they do have to fulfill certain criteria to join. Then, ask the speaker you are interested in booking whether they belong to this Association, which stands for Professionalism and Ethics, and if they don't – why not??
I sincerely hope this helps with your next project, and please remember that you can call us for advice any time – we look forward to hearing from you!!
Bronwyn
Help! I need a speaker! But why use an Agent? The value of a good agency…
The conference and business tourism industry is worth billions of dollars on a global scale every year. And for many of those conferences and industry seminars, the highlight of the event is the keynote or closing speaker.
With so much money being spent on these events, how does one ensure that the chosen speaker will deliver the necessary message with the required "oomph", punch, pizzazz and flair to add that finishing touch and make the whole event memorable?
Much has changed on the Professional Speaker and Speaker Agent landscape of late… Google has come along and changed our lives – forever. It's so easy to find whoever you're looking for now, it's a joke.
"So why bother with an agency?" I hear people ask, more and more often.
With the image of agents in this country having been sullied by unethical operators who charge fortunes of commission on the sly in the past, and then having had that image further tarnished by some speakers who have expressly – and publicly – gone out to "put the agents out of business" (with some level of justification in some cases, I must concede), it's small wonder that clients have started believing that all agents behave the same way, and thus shouldn't be dealt with, unless absolutely necessary.
But, let's think about it – how many times has some very smooth, clean-cut, silver-tongued "motivational speaker" sat opposite you and convinced you that he (or she!) is the absolute best speaker ON EARTH for your next conference or gala dinner?
That no matter what your theme, he can tailor-make a talk just for you – even if it's about Purple Mountain Goat Farming in Outer Mongolia! And you've believed him: after all, he's a very good communicator (obviously!!), he's so charming and his brochure is fabulous!! Why, it says there, right on the cover: "SA's Number 1 Speaker!!!!"
Why wouldn't you believe him (or her!)?
And yet – on the day – he wasn't quite as good as you believed he would be … and his talk about Purple Mountain Goat Farming turned out to be … well … not quite what you thought it would be … In fact, perhaps he even stood up and did his usual "canned" presentation, with a few references to your company thrown in (if it occurred to him), which is his interpretation of "tailor-making" his presentation?
This is exactly where a good agency comes in.
A good agency like Speakers Inc – Africa's largest Bureau doesn't represent just anybody, there's a whole process they go through with the speaker before they'll start marketing them, not least of which is seeing them actually present a talk. It's disconcerting just how many so-called "agents" market speakers they've never seen in action!
In fact, this seems to have become a somewhat alarming trend – agencies basically selling space on their websites to anybody who will pay for it. To me, this defeats the object of being an agent.
At Speakers Inc, we firmly believe that Rule No 1 of Professional Speaking is that one must be a "Passionate Expert on Your Topic", to quote Dottie Walters. Anybody who claims they can speak about "anything!!" makes us more than a little bit nervous.
In this way, an agency worth its salt will know who will be the best speaker for your event, based on your needs and your audience demographic. This – we strongly believe – is a good agency's value to the client: their experience and intellectual capital. Such an agency appreciates that it's their reputation on the line and will not put somebody forward who will put that hard-earned name at risk, not to mention the organiser's or client's!
So the question then becomes, how does one know the good "agents" from the rest?
The simplest way I can think of is to simply ask them whether they've actually seen the speaker they are recommending, deliver a presentation.
A few further leading questions about the content of the speaker's message and presentation style, as well as how and why they believe he or she will fit in with your specific conference theme, should help you establish fairly quickly whether they know what they're talking about or not.
You could also establish whether that agency belongs to any professional bodies, both locally and internationally. Local bodies would include SAACI (the South African Association for the Conference Industry) or MPI (Meeting Planners International) and then there's also the IASB (the International Association of Speaker Bureaus).
Agents who do run ethical businesses, who have the best interests of their clients and speakers at heart and who are concerned with the life-time value of a client, will not jeopardise all of those things for a quick buck through a once-off booking, and these are the guys and girls you should be happy to work with.
A last, sure-fire way of sniffing out those greedy sods who behave without conscience is to ask the speaker directly, at the first available opportunity, (with grace and discretion, naturally) what his fee is.
If they have been instructed by the agent not to do so, that's a very large warning bell. Be warned, he might just mention a figure way, way lower than what you've been quoted, and both of you will be angry, but wiser, about the people you're dealing with.
As a rule of thumb, speakers pay agents 20 – 25% commission from their fees, so if you've been charged more than that, you're paying too much.
Then again, he may mention a figure that sounds right and you'll both be reassured and happy to work with that agent again.
So what exactly is the value of a good agent? I would say that a good agent is someone you can rely on to provide you with un-biased, honest feedback on the speakers who are available on the corporate circuit; sound advice on which speaker will be best suited to speak to your delegates; and who is happy to work on a basis of transparency about the speakers' rates – after all, if the agent doesn't recognise their own value enough not to hide it, why on earth should you?
Speakers Inc is in essence a booking agency for professional speakers, trainers, corporate entertainers and comedians.
Speakers Inc. markets the country's top talent to blue chip companies and Professional Conference Organisers.
Traditionally, a bureau does not charge the speakers for this marketing service, instead taking a percentage commission from each talk booked for the speaker by the bureau.
Internationally this percentage varies between 25% and 40% per talk, in South Africa it is normally 20% to 30% depending on speaker agency as a couple will charge more.
Speakers Inc. charges a 20% commission. We have a very strict policy of honesty with the speakers we work with.
The speaker knows at all times what we are charging our client. This obviously avoids potential embarrassment on the speaker's part, should the client ever raise the matter, and reduces the traditional need for secrecy about fees.
This need for secrecy with some agencies is something we have been very vocal about, and we therefore strongly encourage our speakers to feel free to ask the client what they were charged for the speaker's services.
This is the only way we believe that we'll stamp out the widespread greed and abuse of fees in the industry.
Speakers Inc has been built solidly on our four pillars of Honesty, Integrity, Loyalty and Trust, and it is imperative to us that our speakers share our values and worldview.
Who or what is Speakers Inc.?
Speakers Inc-Africa's largest Bureau was started in January of 1999. It is owned and run by Bronwyn Hesketh, with the help of Gemma-Louise, Sue Pooloe, Christina Bacon and Duncan in Cape Town
Even though we are the biggest bureau in the country, we still act like a small agency, with a largely loyal client base – in fact, we prefer to have friends rather than clients.
Speakers Inc – Africa's largest Bureau have done a lot of personal marketing in the last fourteen years which has paid off nicely, together with regular showcase breakfasts which afford two speakers the spotlight at a time.
Invites to these events are sent out to our corporate and eventing database of over 30 000 people, so even if potential clients can't get to the event, they are still made aware of the speakers' profiles.
We put a large amount of effort into our websites and other online presences, which is yielding very exciting rewards: our main Speakers Inc website has between 150 000 and 200 000 hits a month and growing!
Criteria for New Speakers
Some colleagues of ours in the industry have very stringent criteria before they will even look at a new speaker. In fact, rumour has it that some of them even call it their "Please go Away Document"! In line with one of our favourite slogans "We do things differently!" – Speakers Inc. really has only six criteria.
First and foremost, the new speaker must have "IT" – that indefinable quality that makes a star.
Call it charisma, passion, drive, enthusiasm, positivity, authenticity, integrity – whatever. We just call it "IT". To us, David Grier has "IT", as does Quinton Coetzee, Dr Graeme Codrington, Ian Thomas, Steve Barnett, Stef du Plessis and Justin Cohen, all of whom are some of our favourite people to work with, too!
The only way for Speakers Inc to determine whether a new speaker has "IT" is to see them in action, and until we have, we really can't go any further.
The next criterion is that you have earned the right to stand on the stage and tell people how to better run their lives. Corporate South Africa will not pay to hear somebody talk rubbish, even if he – or she – has "IT".
You need to be well qualified in your field, and we'll need proof of those qualifications, together with some letters of reference from people you have presented to before. You need to have earned the "Privilege of the Platform". Content counts – more and more every day.
The remaining four criteria are very basic – human, in fact – principles:
Honesty
Loyalty
Integrity
Trust.
These are the Four Pillars upon which we have built Speakers Inc and our reputation; and we are therefore practically fetishist about these – we treat our relationships with our new speakers almost like marriages.
Without these four basic elements, no relationship can survive – never mind succeed – whether it be a friendship, marriage, sporting partnership or business relationship; and we like to think of all of our speakers as friends and partners, if not for life, then certainly for a long time.
What we offer
We offer a professional agency service, i.e. we will market you as a Professional Speaker, using personal marketing, advertising, sponsoring of events, organizing our own events, newsletters, a website etc..
Speakers Inc will issue contracts on your behalf to clients who book you, thereby protecting you in the case of cancellations. We can make all your travel arrangements for you, issue invoices and collect all the monies owing to you.
We can help with the putting together of your marketing material and advise on how best to market yourself.
All our speakers carry business cards to talks that we have booked for them, and we strongly encourage our speakers to collect the business cards of people who express interest in hearing them speak for their own companies or events.
We then follow these up for you, in line with our pro-active marketing system. Speakers Inc – Africa's largest Bureau use this information in a database that is exclusively yours (and ours), to market you to the best of our ability.
As an added extra Speakers Inc – Africa's largest Bureau can act as a secretarial service to you for bookings that come directly through your office, ie, we will do all the paperwork (contracts, invoices, travel arrangements etc) for a small fee, usually a much smaller percentage of commission on the booking.
That way you still appear professional and organized, with none of the hassle of employing staff.
Speakers Inc
Frequently Asked Questions
Where do I start?
We suggest you start by getting hold of a copy of "Speak and Grow Rich" by Dottie and Lilly Walters. Unfortunately it isn't readily available in our local bookstores, but amazon.com and Kalahari.com usually have stock.
Speakers Inc do bring copies in from time to time, so check with us, we may have one or two available. This book is worth its weight in gold in terms of invaluable tips and excellent guidelines on how to get started.
Then you could attend one of Bronwyn's workshops called "Insider Secrets to the Professional Speaking Circuit".
It's an annual three hour, Saturday morning session, wherein she answers all of the questions she gets asked all the time.
It's like a live session of Speak and Grow Rich, tailored for the South African market. Call the office to establish the date of the next one we're hosting.
Should I do free presentations?
Absolutely! As many as you can, as often as you can. Our take on this is "You never know who's in the audience!" It might just be that somebody's wife is sitting at a Rotary-Ann's luncheon (the sixth one you've done!) and she tells her husband and his company books you for a countrywide roadshow with major media coverage.
You never know. At worst you'll get brilliant practice and build your own brand in the meantime.
How much should I be charging?
This is a tricky one. Our standard reply is "What is your day worth to you?"
We work with a number of professionals who have their own consulting practices, so their day is measurable in terms of time and money … this lawyer charges R1 500.00 per hour and that doctor charges R280.00 per consultation.
So the lawyer's day is worth at least R10 500.00 and the doctor's day (if she sees a patient every fifteen minutes) is worth R8 960.00.
Our advice is to not sell your time for less than what you value it at.
You might not be a professional with such clear guidelines as to what your hours are worth, but you must put a value on your time, experience and expertise.
To deliver a paying presentation for less than what you believe you are worth is crackers, because you won't do it with love in your heart and you'll land up resenting your client and not delivering the best version of you on the platform.
The audience will pick that up instantly and as we said above "You never know who's in the audience!"
Should I give up my day job to pursue my speaking career?
Another tricky one.
There's a fabulous quote that says "The eagle that chases two rabbits, loses both", but we think that unless your day job is already in the media and/or public limelight, it's probably best to keep it until you make a really good name for yourself on the corporate circuit.
It can take anywhere up to 18 months to 2 years to build your brand and awareness thereof in this market.
Coupled with the fact that this is a ruthless, cut-throat industry and that we have at least two phone calls a day from people wanting to be "motivational speakers", this means you have to be a truly exceptional speaker with divinely-inspired content to make enough from speaking to support yourself in the first six months.
Not that we want to be negative or anything, Speakers Inc – Africa's largest Bureau just want to present you with our point of view so that you are better qualified to make such a dramatic decision.
Do I exclusively sign up with one agency?
This depends significantly on what the agency will do for you. All of the top agencies will market your services free of charge to you. All of us will put you on our websites (where we have them), and list you on our books.
All of us will keep your information on file and if a job comes up that suits you, or somebody asks for you specifically, all of us will book you.
If the agency you're dealing with, though, is not just ACTIVELY, but PRO-ACTIVELY, aggressively and creatively marketing you as a speaker; is helping you with research and/or content; can help you brush up on your speaking skills; is helping you put together your marketing material and is out there trying to build YOUR brand and not just theirs, then – and only then – should you think about exclusivity.
Don't be fooled into an exclusive contract with an agent who demands a percentage of ALL of your earnings for little or no work on their part.
If in doubt, ask Speakers Inc – Africa's largest Bureau, we'll give you the straight answer, and as a rule, we strongly believe that ANY agreement you enter into, should not just be fair, but should be in your very best interests as a speaker.
Should I pay to be listed on an agent's website?
This is a fairly new phenomenon in the industry. We believe there are agencies out there who are charging to list new speakers on their website. We do not.
For some fairly simple (and we think, obvious) reasons.
When Speakers Inc – Africa's largest Bureau agree to represent somebody, we are not just marketing their services to our corporate clientele, we are also using our brand and reputation to endorse that speaker, his content, his conduct, his ethics and everything else.
Speakers Inc are not simply selling space in the Yellow Pages! It has alternately alarmed – and amused – us to see some of the people some of our colleagues "represent".
They clearly have not seen that speaker in action (we have, in the cases we're referring to!), or they simply don't care enough about their own brand and reputation.
Thus Speakers Inc don't charge, but we do choose who is listed, not out of arrogance, but in order to protect all of us: Speakers Inc-Africa's largest Bureau, as well as the people we do represent.
What's that old adage about lying down with dogs …? J
On this note, in line with the Code of Ethics of the International Association of Speakers Bureaus (of which Speakers Inc-Africa's largest Bureau were the pioneering member in South Africa) we do not list somebody on our website without their permission.
We have heard of other agents (some local, some international) who use what is termed as a bait-and-switch policy, i.e. they advertise Anthony Robbins on their website (for want of a less ridiculous example), and when a client calls in to check his availability for a gig, they simply say "sorry, he's not available, but can we recommend … so and so …?".
I believe this strategy is reprehensible and I am delighted that the industry has started to self-regulate in some measure, to stop this.
I would strongly advise you to Google yourself every now and then just to check what people are up to with YOUR name and brand ..
I hope this answers any questions you may have.
If you have any others, please call Speakers Inc – Africa's largest Bureau on 0861 668 488, and I'll be happy to help where I can.
Wishing you all the very best in this exciting and dynamic adventure!
Speakers Inc
Bronwyn Hesketh
My Book is for all aspiring speakers or professional speakers, an insight on how to work with an Agency, ethically and with integrity.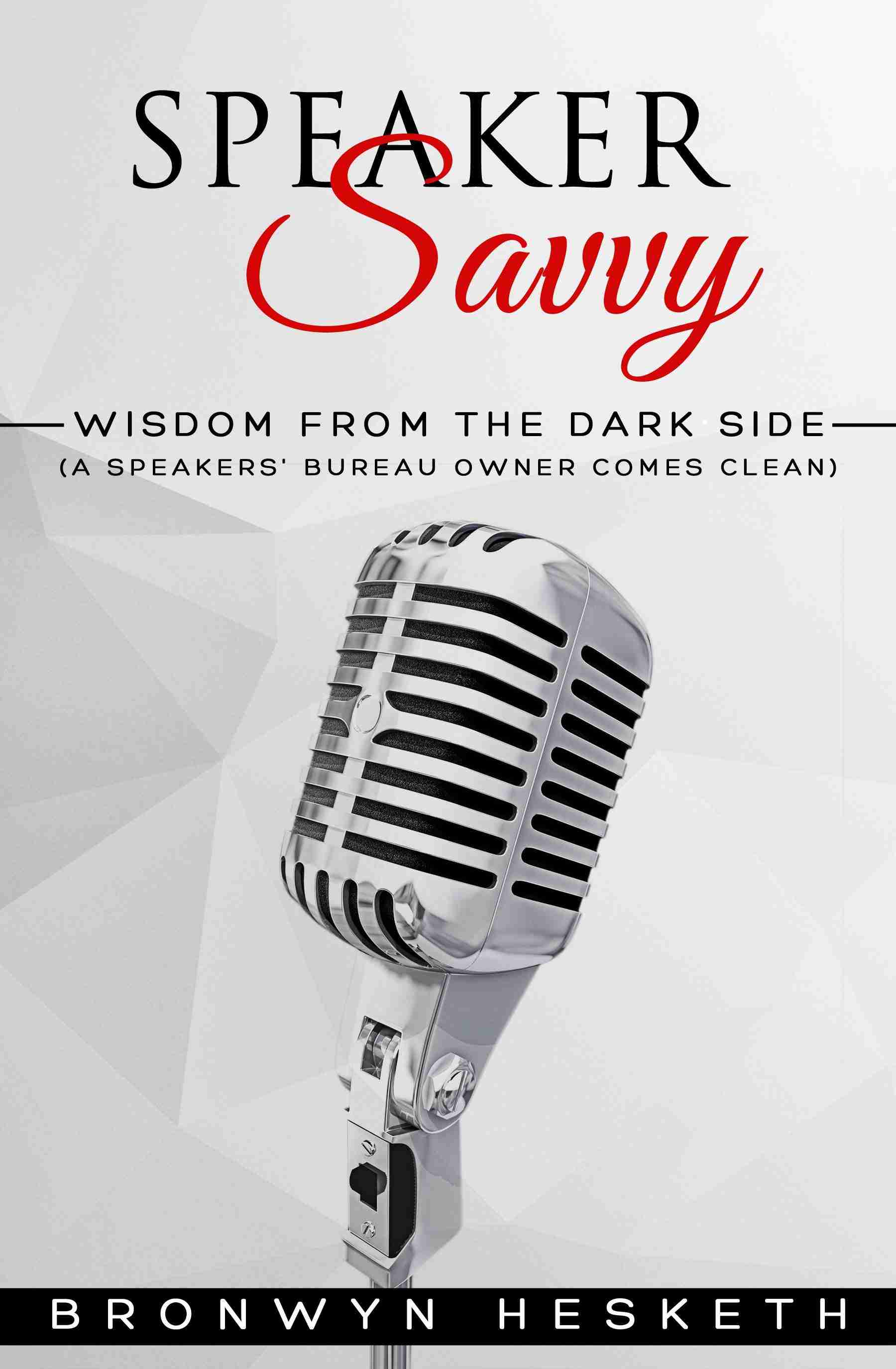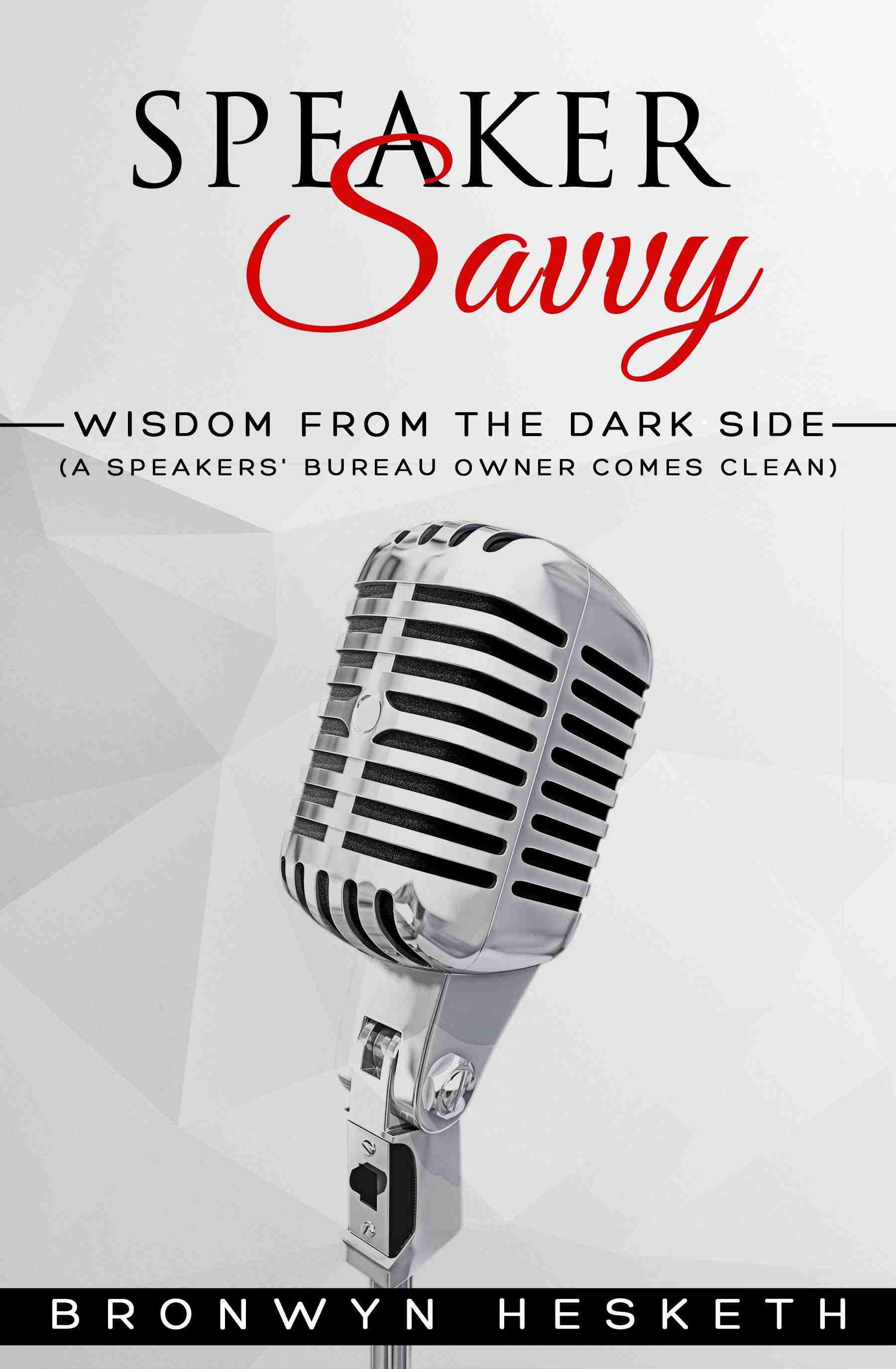 2016 finally saw her book "Speaker Savvy" launched, in which I shares anecdotes and wisdom – garnered through my two decades in the speaking industry – about how to crack the Professional Speaking Circuit from the business angle.