Simon Gear – Environmentalist Speaker is the environmental and science correspondent for Primedia Broadcasting and the anchor presenter for 50/50 on SABC 2. Simon is now available through Speakers Inc.
He was a senior broadcasting meteorologist with the SABC from 1999 to 2011. He is an air quality and climate change specialist and has worked on a wide range of private and government projects in South Africa.
Simon works as a professional speaker and MC, focusing on various environmental and climate change related topics, and thoroughly enjoys bringing his passion for science and the environment to the fore at functions.
Simon is also an accomplished writer. You can currently read him in his monthly columns in Runners World SA and in Khuluma, the Kulula.com in-flight mag. His first book, 'Going Green', contains simple environmental advice for day to day living and is currently on its first re-print.
Simon Gear
Simon's keynote presentations include:
Sustainability.
Green Business.
Climate Change.
Other science related topics.
He also enjoys speaking about his running transformation and the ability of all 40-somethings to recapture their former glories.
Videos:
Simon Gear – Environmentalist Speaker
Books: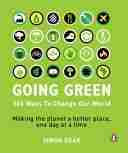 Our air is polluted, our temperatures are rising and resources are dwindling.
Everyone is talking about the dire state of the planet, global warming and greening their lives, but where do you start?
South Africa's favourite weatherman Simon Gear has a solution: 365 easy-to implement tips to help you make your world a greener place, one day at a time.
This tried and tested advice is a perfect beginner's guide to help you decrease your carbon footprint and make your environment more sustainable.
From the incredibly easy: brew coffee from home (saves you time, money and a couple of trees); take the stairs (and cut your chance of dying young by 15%); to the intrepid and exciting: make your own wine (any sugary liquid that has been left to go off then strained to get rid of the floaty bits); ride a motorbike (to get that debonair aura of bikers everywhere).
Going Green is THE book to set you on a greener path.