Sandy Geyer is no stranger to the entrepreneurial path and its challenges.
She built up and continues to lead one of South Africa's most successful educational publishing companies, established from her garage in 1996, and also owns a Property Investment Company and two training practices and now available through Speakers Inc.
She now lives in New Zealand and is passionate about assisting business owners in Australlia, New Zealand and South Africa to develop what she terms their Entrepreneurial Intelligence (EnQ). Sandy's knowledge, passion and enthusiasm for business and in particular, business leadership, are the focus of her energetic and informative presentations.
She has a degree in Industrial Psychology (BA), is a certified DISC communication trainer, an accredited speaker (ASM) with the National Speakers organisation of New Zealand (NSANZ) and has 18 years experience in running her own successful companies.
She will be returning to South Africa for 5 months in 2016, so take this opportunity to snap her up at local fees, with no international travel applicable
Sandy's Topics Include:
Emotional Intelligence
Self Empowerment
Entrepreneurial Intelligence
Sandy Geyer – Entrepreneurial Intelligence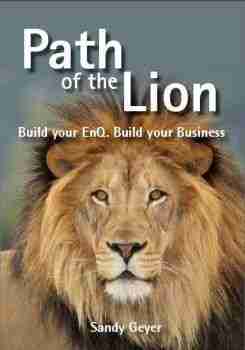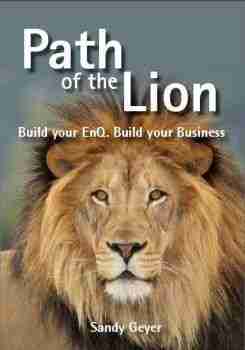 This book is a must-read for entrepreneurs and offers a tried and tested step by step guide to building a successful and profitable organisation
Here's what readers have to say:
"Creative, imaginative, delightful, provocative, hard hitting and well written are just a few of the adjectives I use to describe the Path of the Lion, written by Sandy Geyer. The concept is one I will use with clients in helping them become better business people.
This book is both useful and practical having truly merged natural human and animal observations to help people identify where they are with their entrepreneurial intelligence.
Thanks Sandy for an excellent reference tool"