A #1 best-selling author, world renown ultra-endurance athlete, popular podcast host and wellness pioneer, Rich Roll is also a highly sought-after presenter with a powerful yet grounded, highly authentic style, profound command over a room and the unique ability to not only educate and inspire, but catalyze self-actualization – leaving audiences with the tools and strategies to unlock and unleash their best, most authentic selves.
His inspirational memoir of plant-fueled athletic prowess, Finding Ultra: Rejecting Middle Age, Becoming One of the World's Fittest Men and Discovering Myself has permanently changed the lives of countless thousands and continues to top bestseller charts more than two years since its release.
His weekly Rich Roll Podcast has amassed over 3 million downloads, consistently ranks in iTunes "Top 10" lists and was nominated for a 2013 Stitcher Award for Best Health Podcast.
Rich has been featured on CNN, HLN and the pages of Outside, Men's Health, Men's Fitness, Triathlete, VegNews, Yoga Journal, The Los Angeles Times and thousands of online media outlets.
In addition, Rich has been a top finisher at the 2008 and 2009 Ultraman World Championships in Hawaii. Considered by many to be one of world's most daunting and grueling endurance races on the planet, Ultraman is a 3-day / 320 mile double-ironman distance triathlon that circumnavigates the entire Big Island.
Limited to only 35 carefully selected invitation-only participants from all over the world, Day 1 involves a 6.2 mile ocean swim immediately followed by a 90 mile cross-country cycling race. Day 2 is a 170 mile cycling race. And the event culminates on Day 3 with a 52 mile double marathon run on the searing hot lava fields of the Kona coast.
But what makes Rich truly remarkable is that less than two years prior to his first Ultraman, he didn't even own a bike, let alone race one.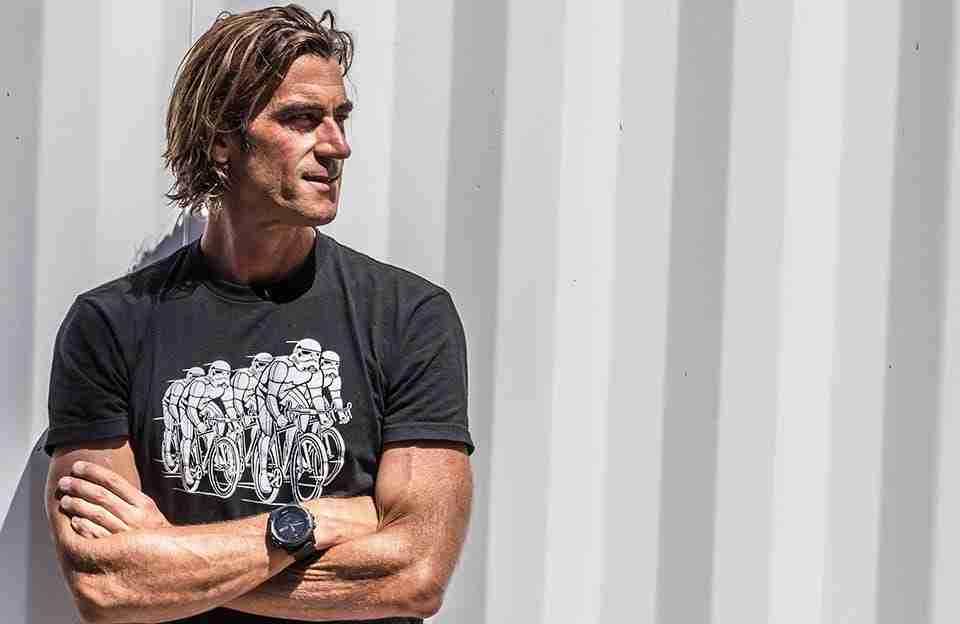 ---
KEYNOTE Topics
Unlocking Your Best Self Through Plant-Based Nutrition – "I want to eat and feel better, but I just don't know how to do it!" We all know the refrain. The United States is the most prosperous nation on the planet, and yet we've never been more sick. Heart disease, obesity, diabetes and cancer are modern day plagues, killing us by the millions. Swimming in escalating health care costs, families and corporate America are desperate to find a sustainable solution to improve individual and workforce health. But how? The truth is, the solution has been staring us in the face all along. Over the course of this 70-minute keynote, Rich will inspire you with his personal story of redemptive health, educate you with the science behind good nutrition, and leave you with the tips, tools and strategies to follow in his footsteps.
Living Your Authentic Life – "I feel stuck in a life I didn't consciously choose – how can I change?" Too many of us are living lives of quiet desperation. Locked in a habitrail life without the keys to escape. But freedom isn't just possible, it's our mandate. In this compelling talk that merges Rich's personal journey with tangible and powerful tips and takeaways, Audiences will be left inspired to delve deep within; and empowered to embark on a journey of self-discovery with the tools to unlock and unleash the best, most authentic version of ourselves.
The Plantpower Revolution Is Now – Talking about food is personal. Right up there with religion and politics. And with so many fad diets and conflicting information about nutrition at our fingertips, it's enough to cause vertigo in even the most discerning consumer. But what we put in our mouths has ramifications that extend well beyond personal preference. We are in the midst of a health care crisis of unprecedented proportions that has our economy stalled. Meanwhile, our planet is dying, teetering on ecological disaster. The biggest contributor to these problematic times? Our industrialized system of animal agriculture — indisputably the single largest contributor to every known environmental ill known to human kind including water scarcity, deforestation, land use, species extinction, the destabilization of communities and world hunger. The world's obsession with an animal-centric diet is not only killing us, it's an environmental disaster that is polluting our atmosphere and oceans, depleting our resources, obliterating species and destroying the Earth at an alarming rate of speed. But there is a solution. And it's simple. Adopting a plant-based lifestyle is the optimal solution to be healthy, stay healthy and raise healthy, conscious children while simultaneously fulfilling our collective responsibility as consumers, parents and stewards of the planet.
The Plantpower Athlete – Collective wisdom is that "vegan" and "athlete" cannot co-exist. But this is pure nonsense. In this illuminating talk, Rich reveals the truth behind nutrition, the tactics used by conglomerate food manufacturers to dupe and confuse consumers and sets the record straight – not only can you succeed athletically on a plant-based diet, it is the optimal protocol for maximum performance.
Investing In the Journey – The most popular meme of the decade just might be the hack. Hack your diet, hack your fitness, hack your job, hack your wife. But when did a term so historically pejorative suddenly become aspirational. In this short 15-minute, TED Talk-type discourse, Rich launches a plea to forget short-cuts and our insatiable drive for instant gratification. An appeal to not only slow down, but to invest in the journey. An inspirational and illuminating look at the insanity that drives us away from the goals, success and life satisfaction we so desperately seek.
Workshops & Tutorials – Rich (along with his wife Julie) are also available for nutritional and athletic oriented workshops to compliment keynote appearances or as stand-alone gatherings. Subjects include:
Plant-Based Basics  – A cooking workshop, tutorial and demonstration that takes people through the basics of how to get started in the kitchen and beyond.
Smoothies 101 – Kitchen tutorial and demonstration on the how's and why's of juicing and blending your way to optimal health.
Detox & Cleanse – Why a proper juice-based cleanse can set you on a new trajectory and how to do it right.
Plant-Based Kids – Tips and tools for getting children and families on a better nutritional trajectory.
Multisport Activities – Clinics on running and swimming; endurance training for elite performance; fun runs and group cycling excursions.
Travels from: Malibu, CA
Speaking Fee: On request