Rachel Sheerin is an award-winning keynote speaker and emcee. Named Speaker of the Year for 2019 by NACE, you may have seen Rachel featured in Inc Magazine for her keynotes or on the TEDx stage.
Rachel's been on both sides of business – sales and operations. She's built multi-million dollar sales teams for organizations that want to grow profits and boost happiness and trained operations teams that want to influence their sales teams to work better together.
With Fortune 500 clients such as The Ritz Carlton, WAL-MART, National Associations in Healthcare and Banking, Hilton, Berkshire Hathaway, Rachel's known for delivering high-impact education and motivation to audiences from Spain to Seattle.
A partner of The James Beard Foundation and Director of Global Award for the Association for Women in Events, Rachel Sheerin motivates and educates high-performers so they can level up their success, increase their impact, and live a life they love.
With her book launching later this year, Rachel's continued research and motivational content around burnout, happiness and success can be heard on her weekly podcast, F THIS S with Rachel Sheerin.
The world needs more successful people doing what they were born to do – and being happy while they do it. I've always loved to entertain, help others, and make people smile and that's exactly why speaking on stage feels like home.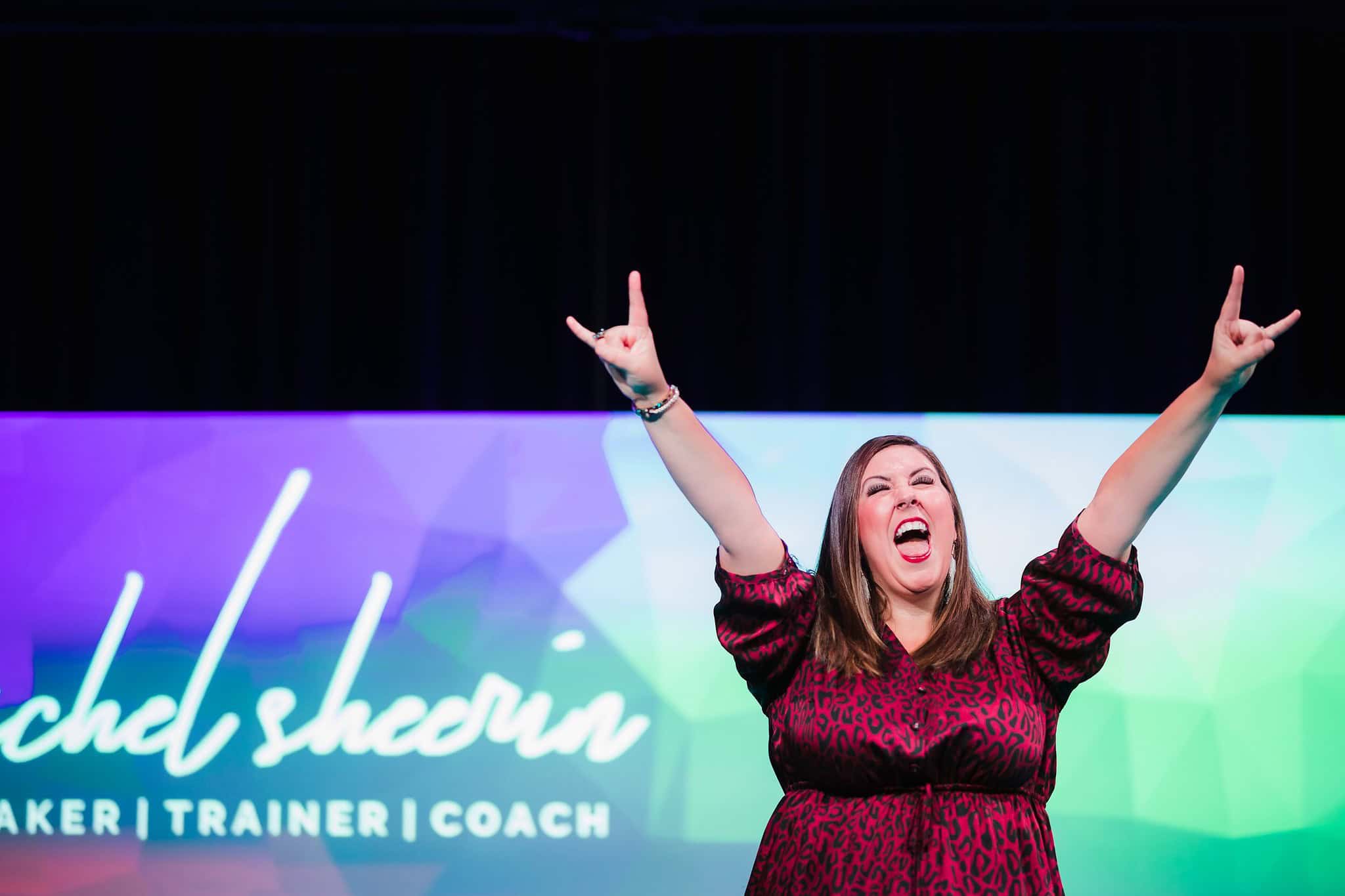 ---
THE MOTIVATIONAL KEYNOTE FOR THE FUTURE OF WORK
BURNING AT BOTH ENDS:
HOW TO COME BACK TO LOVING YOUR WORK
WE DO OUR BEST WORK WHEN WE ARE AT OUR BEST – BUT BURNOUT IS CHASING US 24/7.
We want to believe we make an impact in our work. We dream of having control but it feels like an illusion. Especially in today's buck wild world.
How can we learn how to be in the drivers' seat of our own happiness and success?
In this keynote, Rachel will enable attendees to:
Identify the most common causes of burnout in today's world + how they show up in our lives and workplace.
Empower attendees with skills to take control over their burnout triggers + reverse their impact.
Redefine success + reprioritize happiness ASAP.
This session is perfect for:
Industries and organizations dealing with intense change and stress.
High performers who want to restart their engines.
Longtime and newer employees alike. (link to blog open new window)
Anyone interested in living an authentically successful and happy life.
---
Superpowers for Selling:
Creating Deeper Relationships That Pay Off
Using behavioral science and humor, this keynote empowers sales pros and anti-salespeople alike to come together so that their best ideas, proposals, and messages get heard by clients, customers, and each other. Audiences experience big ah-ha moments, gain new perspectives, and learn how to authentically connect for success in work and life.
---
Survive + Thrive:
How to Manage Stress, Change, and Clients in the 24/7 Economy
We're moving at light-speed in work and life, so how do winning teams deal with the chaos?
This keynote is built for high-performers who need to embrace constant change, prioritize team collaboration, and crush their goals. Discover ways to succeed in the busyness of business and keep it fun!
---
CONFERENCE EMCEE:
Create the experience your attendees will love and remember
Engage, Educate, and Entertain Your Audience.
As your event MC, Rachel provides clear directives for attendees to create a fun, interactive experience!
Your event will run smoothly with Rachel at the mic providing succinct captions and synopsis of presentations in between sessions – linking the content with your theme. Your audience will stay engaged as Rachel facilitates conversations and plays with professional improv comedy to keep attendees entertained and inject lightness and energy into your event.
Having rachel as your event emcee
Infuses your event with energy!
Set expectations clearly for the event and post-event activities
Keeps the timeline tight, making attendees and leaders happy
Creates inclusive environment with attention to pronouns, phrasing, and culture
Takes pressure off of your organization's meeting planning team
Facilitate conversations – from panels to 1-on-1 interviews, town halls and more
Advocate for attendees, asking questions and following up in real-time conversations
Share follow up opportunities, post-event surveys, future events + networking
---
Travels from: Charlotte, NC
Speaking Fees: $10,000 or less
Conference Emcee: On request