Oz Pearlman is a world-class entertainer and one of the busiest mentalists in the country. He developed an interest in magic at a young age and what started as a hobby quickly became a lifelong passion. After a couple of years spent working on Wall Street, Oz decided to pursue his dream and become a full time entertainer. He has now been dazzling audiences with his unique mind-reading ability for over a decade.
Oz's client list reads like a who's who of politicians, professional athletes, A-list celebrities, and Fortune 500 companies. His natural charisma and charm make him the perfect choice for corporate events and private parties alike. Oz's unique blend of mentalism and mind-reading create an interactive experience that is redefining the very nature of a magic show…one that truly needs to be seen to be believed.
In the summer of 2015, Oz was featured on TV's number one rated show, America's Got Talent. Week after week, he captivated the country with never-before-seen mentalism routines and quickly became a fan favorite, finishing in third place out of thousands of acts. Oz has also appeared on a variety of both national and international networks, a few of which include NBC's Late Night with Jimmy Fallon, The TODAY Show & ABC World News and been profiled in Forbes, The New York Times, to name but a few.
When he isn't blowing the minds of audiences around the world, Oz is an avid marathon and ultra-marathon runner, having completed such grueling races as the Badwater 135 Miler, Hawaii Ironman World Championships, Western States 100 and Spartathlon. He takes great pride in his marathon PR of 2:23:52 and has won dozens of races throughout the country.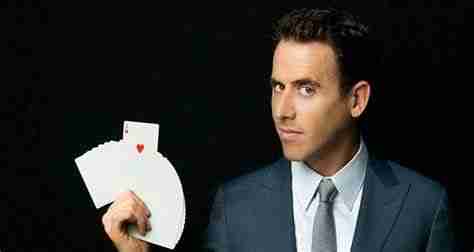 ---
Custom options for your next event
Get more out of your upcoming holiday parties, sales meetings, conferences, awards banquets, hospitality suites, and other corporate events. Oz presents a fun, upbeat show that will keep audiences, ranging in size from 5 to 5,000 laughing and gasping in amazement.
The show is custom designed for today's sophisticated corporate audience; blending mentalism, mind reading and a wholesome sense of humor into an intriguing experience like none other. The audience is actively involved throughout the entire performance and will feel like the stars of the show. Show your clients and employees how important they are to you and make this year's event one they'll never forget!
Close-up Strolling Mind Reading and Magic
Oz serves as a perfect icebreaker and conversation starter, mingling amongst your guests and absolutely blowing their minds. From revealing the name of their first kiss to pulling out a sealed envelope with the details of a distant vacation, the impact of Oz's performance will stay with audience members for years to come! Your guests will be astounded by Oz's world-class mind reading and sleight-of-hand abilities, and delighted by his sense of humor and charm. This is a terrific option for cocktail hours, breakout sessions, holiday parties, networking events, and other casual environments to warm up a crowd.
Customized Mentalism Stage Show
Oz will work with you to customize a program tailored specifically for your audience and industry. His stage show is a highly interactive experience, involving dozens of audience members with a singular focus of creating long lasting impressions. You'll see why companies throughout the country look to Oz to impress high-profile clients, dazzle employees and entertain senior management. This is the perfect fit for awards meetings, incentive travel, conferences, conventions, gala dinners and other formal events that involve a seated audience.
Master of Ceremonies
In today's fast paced world, you need to truly capture a group's attention or risk being lost in the noise. Oz has the extensive experience, easygoing charm and disciplined focus to ensure that your event flows smoothly. He is an expert at keeping an audience on their toes, mixing in your messaging with lighthearted humor and connecting on a deeper level. Oz can serve strictly as an MC or also blend in some amazing performances to keep things moving along in a fun manner.
Travels from: New York, NY
Full Performance Fee: from $30,000 – $50,000