An internationally acclaimed and admired motivational speaker, Manley Hopkinson uses powerful metaphors to enliven the topics of leadership, "team-ship" and "self-ship", all with the focus on delivering high performance.
With the core of his talks revolving around his phenomenal experiences, Manley develops the personal themes of fulfilling your and your team's potential and achieving far beyond your own perceived abilities, as well as drawing on numerous leadership and team development lessons; give a team a real sense of purpose and direction, motivate and inspire them (lead them) and it is incredible what can be achieved.
Manley twice served as an Officer in the Royal Navy, re-joining for the first Gulf War. Between times.
Manley Hopkinson
Manley was an Inspector in the Royal Hong Kong Marine Police. In 2000, he was selected as a skipper in the BT Global Challenge Round the World Yacht Race, leading a team of volunteers, including novices for 9 months in a 32, 000-mile journey, the "wrong way"!
Manley continued his adventures as part of a 3-man team that won the inaugural race to the Magnetic North Pole.
The team faced polar bear attacks, and sub-zero temperatures, learning huge lessons about both surviving and competing in very difficult circumstances. Their record time of 10 days and 9 hours still stands.
Manley Hopkinson-International Motivational subsequently applies his leadership experience to great effect, designing and delivering successful cultural change programs, and sitting on the board for a number of organizations globally, including the ATLAS Consortium, Hewlett Packard Defense UK and Ark Data Centers, delivering true "high performance cultures".
In 2014, Manley published 'Compassionate Leadership: How to Create and Maintain Engaged, Committed and High-Performing Teams'.
In his highly-acclaimed, entertaining book, he combines two worlds of business and adventure to encourage leaders everywhere – at work, at home, in sports and mid-ocean – to take a new approach to creating teams of developed, self-aware and committed individuals.
Manley Hopkinson
"I can honestly say, that having sat through many Pre/After Dinner speakers in my time, yours was certainly amongst the Top 5. Informative, fun, engaging"
Edward Murray, CEO, the Omni Group
"Manley Hopkinson is the sort of man you would follow to the ends of the earth. Indeed, many have. A tall, strapping, unstoppably charismatic optimist – the sort that sees rain as 'liquid sunshine' – this former naval officer has led exhibitions to the North Pole and skippered a yacht crew around the world "the wrong way", that is, into the winds, as part of the BT Global Challenge. If anyone knows about leadership, he does. Watch him and you know what leadership looks like. Listen to him and you learn what it entails."
Ian Gray, TMA Conference
"Manley was great – the guests all loved listening to him. And such a lovely man too. He fitted perfectly with the event"
RBS
"I've worked with Manley at 3 separate organizations now. He brings professionalism, focus and a new perspective to every assignment. Manley's unique view on leadership and diligent research combined with his personal experience across numerous continents and exploits brings a high energy and engaging contribution whether this is to a leadership program or a conference agenda. Highly recommended."
Simon Kettle, Head of Development and Engagement, Manchester Airports
"I thought Manley's expose was very powerful; a rare combination of wit and real depth. Fantastic. I must now read the book."
PwC
Manley's Book – Compassionate Leadership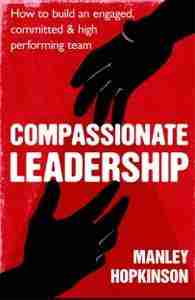 Compassionate Leadership book Manley Hopkinson With increased pressure on businesses to cut costs while increasing productivity, getting the most from your team is even more important than ever. This book will show you how to use compassionate leadership techniques to inspire your team to perform at a high level.
Forcing compliance is easy. Anyone can 'make' another do a task or a job. It will get done, but when, and to what standard? High performance and, more importantly, sustained high performance can only come from engagement with and commitment to the job in hand.
This book will introduce you to the art of compassionate leadership – the art of getting the best for and out of people through the fulfilment of self-worth. It will show leaders how to give their teams a real sense of purpose and direction in order to motivate and inspire them to perform at a high level.