Lorne Sulcas – The Big Cat Guy is unorthodox. Definitely not your average motivational speaker.
He has spoken on the world's biggest stages. He appears on CNN. His clients include organizational giants on five continents, from NASA to Hershey's, Tesco to Rolls Royce.
Since 1996, Top International Motivational Keynote Speaker Lorne Sulcas has been 'WOW'ing' and transforming top teams and organizations around the world with his unique Thriving in a Wild World™ presentations: time-tested success secrets from the most successful survivors on the planet – Africa's Big Cats.
His keynotes are one-of-a-kind. Unforgettable. Not anything your audience has seen before. Nor anything they'll ever see again.
And tailored to your bespoke context.
Your audience will get million year-old secrets of organisational and personal success:
How to sustain growth, high performance and exceptional results
How to thrive in the face of change and crisis
Teamwork that yields results no-one else achieves
Game-changing leadership, innovation, and vision
'Hunting new business' – even amidst chaos and uncertainty!
How to get and maintain competitive advantage
Because Lorne has the street cred.
After many years as a sought-after Leadership Trainer and Management Consultant, Lorne went from the corporate jungle to the real jungle.
Everyone thought he was crazy.
For nearly a decade, Lorne was a game ranger, tracking and photographing Africa's Big Cats on a daily basis.
Today, Lorne Sulcas – The Big Cat Guy travels the world sharing potent life and organizational lessons from these super-predators that have been thriving for millennia in the face of change and competition.
His message moves people to act. His captivating stories and award-winning photos will pierce your audiences' hearts.
They will laugh. And his inspiration will stay with them forever.
He is an extraordinary expert; renowned professional; a 'cat'-alyst; trusted Motivational and Conference Keynote Speaker to CEO's and Event Planners. Around the planet.
Lorne is an expert in what it takes to survive, thrive and win, if you are looking for a:
Motivational Speaker
Business Speaker
Conference Keynote Speaker
Change Speaker
Sales Speaker
Leadership Speaker
Teamwork Speaker
Sports Motivational Speaker
Dinner, Breakfast, Lunch Speaker
or Leadership and Teambuilding Trainer
Because there's no excuse for mediocre.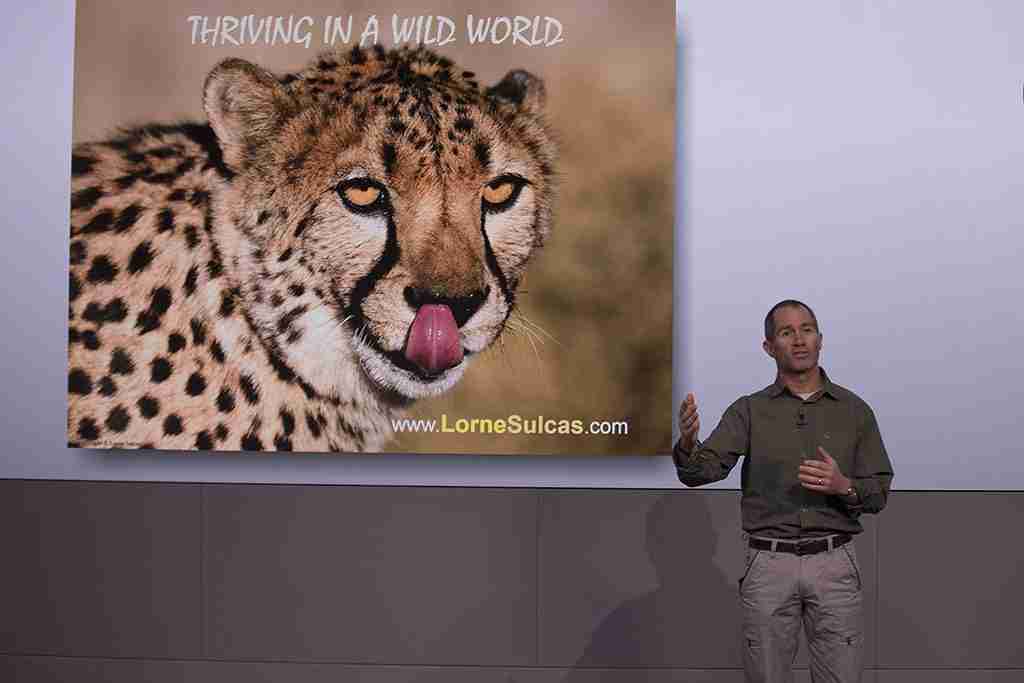 Read some of Lorne's articles: What makes a Winning Team or … Corporate Motivational Speakers
Most Popular Keynotes
Having an opening or closing Keynote Speaker who 'bombs' is probably an event planner's absolute worst nightmare. You're looking for a high-energy, high content speaker who will set the critical tone in opening your conference or leave your audience excited and ready to grow after closing it. Your speaker's message has to inspire. It has to be relevant. It has to stick. You cannot afford to have a speaker who is forgotten straight after walking off the stage.
Audiences don't forget Lorne Sulcas – The Big Cat Guy. Or his message. Lorne tailors his content to your context. His is not a speech. It's an experience.
Thriving in a Wild World™
A trusted motivational keynote speaker who gets results
Lorne Sulcas is an international motivational keynote speaker who speaks at meetings and events all over the world, from small- to medium-sized businesses to organizational giants like NASA and The World Bank. Lorne has established his trusted reputation on referrals.
He has spoken to organizations on five continents. And he gets called back. Across the globe. He has worked with employees and executives of organizations from Sony to AT&T to Rolls Royce.
He has been featured on CNN. He is an internationally award-winning wildlife photographer.
Lorne is not your average motivational keynote speaker. He knows what it takes to thrive in the face of massive change, challenges, and competition. Because he has years of real-world experience…
In the corporate 'jungle' as a leadership trainer, and in the real jungle as a game ranger, tracking and photographing Africa's Big Cats for almost a decade.
Today The Big Cat Guy delivers motivational talks all over the planet on the potent leadership and teamwork success secrets from these awesome and eternally successful super-predators that we can apply to thrive in the face of the change, challenges and competition we all face every day.
Relevant to your audience
Motivational keynote speaker Lorne Sulcas partners with teams, employees and executives around the planet on leadership, teamwork, and sustaining competitive advantage in the face of competition, change, and challenges.
If you're having a conference, 'in-house' event or retreat, Lorne's game-changing sessions are designed to
help your team triumph in the face of competition,
your leadership navigate change,
or your sales force to 'hunt' new business.
And each keynote is different. Because every event and every organization is different. Lorne will customize his content to address your specific organizational context and to meet the needs of your event.
---
Travels from: Cape Town, South Africa or Los Angeles, CA (travels frequently between USA and SA)
Speaking Fee:
North America: $10,000 – $15,000
UK + Europe: $8,000 – $12,000
Southern Africa: R30,000 – R40,000
Contact Us at Speakers Inc and subscribe to our YouTube channel