Ken Okel understands the importance of performing at a high level every day, having worked in broadcast news. Today, as a motivational keynote speaker, audiences enjoy his creative solutions to their problems. (WPBF, WSPA, WSIL, KAET, and the Cable Ace Award Winning Fort Collins Evening News), hurricane relief (Wilma, Frances, and Jean), and professional ballet (not a typo).
Today, as a motivational keynote speaker, audiences enjoy his creative solutions to their problems. Ken is the author of the book, Stuck on Yellow, hosts the 2 Minute Takeaway Podcast, and has marketed everything from global brands to a three-legged kitten.
Today people know about Ken Okel for his leadership presentations to companies and associations. Audiences are engaged and entertained as they learn from his experiences and gain the tools necessary to transform their professional lives.
Some enjoy taking part in Ken's famous Paper Hat Exercise.
Ken continues to use his broadcasting skills in interviews, as a Master of Ceremonies, and in webinars.
Ken is a Past President and two time Member of the Year of the Florida Speakers Association and a 15+ year member of the National Speakers Association.
---
KEYNOTE SPEAKER
Accepting The Dare: Your Secret Weapon
Remember, as kids, when you could turn down a dare? Today, workplace challenges may offer you no choice. You have to respond and you need to be at the top of your game.
Busy leaders often find themselves defined by how they perform under pressure. In this keynote session, you'll change the way you approach challenges, inspire your team, and create a path out of uncertainty.
You Will Learn:
How top performers maximize their performance on the job.
The question smart news reporters ask and how it can build your employee culture.
The role communication plays with your team and your customers.
What you should be celebrating during challenging times.
What a ballerina knows about trust that can transform you and your organization.
This session also includes Ken's signature piece, The Police Dog Attack Story.
---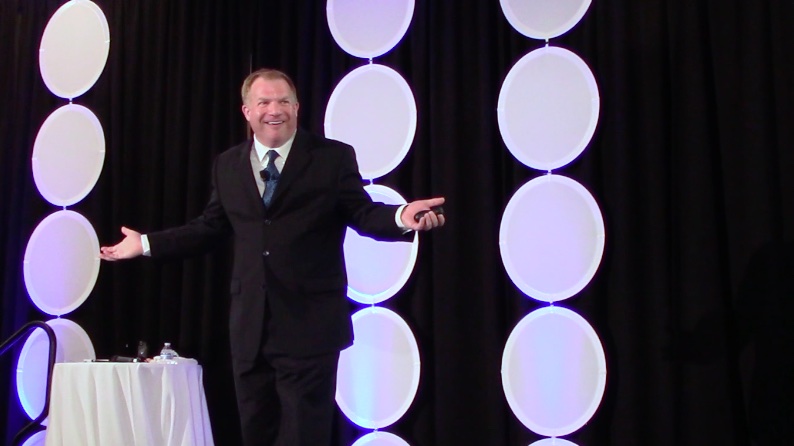 The Comeback: Thriving in Your Busy World
If you feel like you never have enough time to get your important work done, then you're not alone. The problem isn't competence but the fact that you don't get enough time to perform what you do best.
In this engaging session, you will learn actionable strategies designed to end your struggle with the clock. It's a mindset makeover that will give you back your edge.
You Will Learn:
How to control distractions that steal your time.
Understanding how newscasters embrace the challenges of daily deadlines.
Maximizing your employees, even if it means waving goodbye to the good ones.
How to avoid costly communication misunderstandings.
The surprising role toilet paper plays in your ability to delegate.
This session also includes Ken's signature piece, The Police Dog Attack Story.
---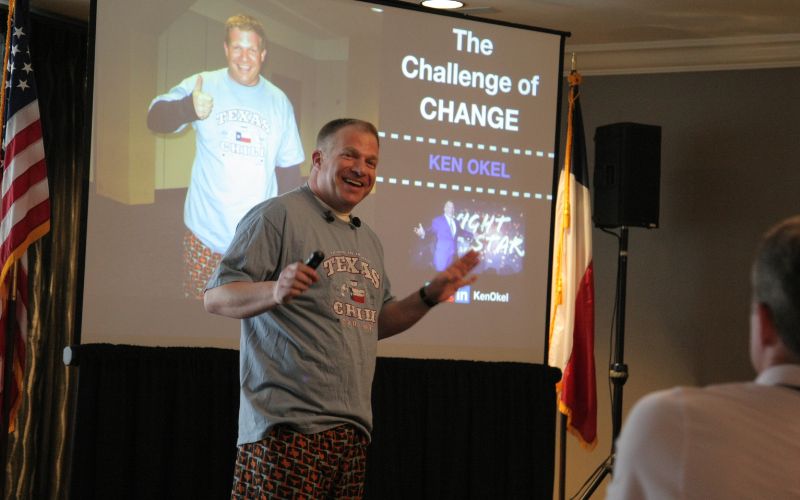 The Challenge of Change
When constant change becomes the norm, you've got to adjust your leadership style and business culture to meet the day's new challenges. Doing nothing is not an option and what worked in the past, isn't getting the results you want.
This session provides you with a powerful tuneup and will open your mind to new opportunities. Ken will also put on some funny clothes.
You Will Learn:
How past accomplishments could keep you from enjoying future success.
What a world-class ballerina knows about playing big, even when you're in a supporting role.
How to rally employees, when you're not able to give traditional incentives, like pay raises.
The hard truth about pleasing everyone when you are working on disaster relief.
And you'll go behind the scenes and learn how collaboration allows a ballet company to safely use fake snow.
---
Master of Ceremonies
A good Master of Ceremonies is like Sandra Bullock's best friend in a romantic comedy. The job is to tell some funny jokes, help move the plot along, and never take the attention away from the star. From the stage, it's also smart for the Emcee to honestly and energetically thank the audience for doing the kind of work they do and give specifics about how they matter.
Unify your event behind a theme
Keep the proceedings on time and deal with unexpected challenges or announcements
Promote your event and empower your attendees
---
Travels from: Ft Lauderdale, FL
Speaking Fee: from $10,000 – $20,000
EMCEE Rate: On request