Erin Hatzikostas is an internationally-recognized leader on the impact of authenticity in the workplace. She is the founder of b Authentic inc, where she's leading a movement to eradicate the workplace of its BS and make it a fundamentally more authentic place.
Erin is a former Corporate CEO turned Professional Pot-Stirrer.
She is the best-selling author of You Do You(ish), a TEDx speaker, coach-sultant, and the co-host of an offbeat career and leadership podcast, b Cause with Erin & Nicole.
Her talks have reached hundreds of thousands of people and her thought leadership has been featured on ABC, CBS and published in Business Insider, Fast Company, Well+Good, among several others.
Erin spent her career "first half" working in the corporate world, where at the age of 42, she became the CEO of a large healthcare financial institution.
In just three years, she took a struggling company and led a massive turnaround, tripling earnings and sending employee engagement skyrocketing. Her secret? Radical authenticity.
Erin holds a BBA in Statistics from Western Michigan University and an MBA in Finance and Marketing from the University of Connecticut.
She is married to her husband, Manny, who she met while stumbling through (and failing) an early career in the Actuarial field. They have two children – Ella (13) and Mick (10).
In Erin's free time you can find her coaching basketball, running, skiing, drinking wine in her fat pants, or dancing wherever you're not supposed to dance.
I'm a former Corporate CEO turned Authenticity Aficionado.
After failing my first career as an Actuary, I bobbed and weaved my way into some big-girl jobs, and at the age of 42, I was named the CEO of a 1,000 person company…that was struggling, big time.
In just three years, we tripled earnings ($17M to $50M) and employee engagement skyrocketed 12% pts.
I realized there was one secret to my success – authenticity. I'm now on a mission to teach others how to use authenticity as their secret weapon to success.
I'm a TEDx and keynote speaker, bestselling author, podcast co-host, and coach-sultant.
Erin is the living, breathing business case for authentic leadership.
Erin Hatzikostas | Authenticity | Leadership Speaker
Erin Hatzikostas spent her career "first half" working in the corporate world, where at the age of 42, she became the CEO of a $2bn healthcare financial institution. In just 3 years, she tripled earnings and sent employee engagement skyrocketing.
​
And just when things were going great, she decided to walk away so that she could help solve what truly breaks her heart: the immense lack of authenticity in the workplace.
Through her company, b Authentic inc, Erin is provoking a movement to eradicate the all-too-fake Corporate environment and helping people and companies realize that doing authentic can be their new secret weapon to success.
LEADERSHIP & CULTURE
How to Make Authenticity Your New Secret Weapon to Success
Why is it that despite the proof that companies with engaged and diverse workforces perform exponentially better, that we can't seem to truly crack these nuts?"
Erin will inspire you with a clear business case for authenticity and its power to be the difference maker.
​
In this highly…authentic talk, Erin will take you on a roller-coaster ride of emotions and inspiration that will prove out the business case for authenticity in the workplace.
She'll also help you understand the pillars of her proprietary HUMANS Framework so that you too can take your badass self (including your flaws and all that junk too) to lead yourself and others with authenticity.
Things you'll learn:
Understand the proven impact that authenticity can have on companies and their results.
Learn a simple framework for unleashing authenticity in your workplace.
Be empowered that authentic leadership can come from the top down AND the bottom up.
Gain a foundation for the simplest changes to make in order to inspire an authentic culture.
Have a stitch in your side from laughing!
SALES
Once Upon a Sale: How to Use the Power of Storytelling as Your New Sales Playbook
My Uncle Bob tells the story time and time again of his greatest coaching moment. Long story short, unlike any other dad out there, he coached my 3 year-old cousin to keep running until he got to trees way in the distance.
And not that Easter egg hunts have winners, but…Matthew won.
​
All of us are in one big Easter egg hunt. Or race to capture the attention, trust and wallets of companies and consumers. Sadly, many companies (and their marketing, product, sales, everything teams) are missing out on the single most powerful sales tool – storytelling.
​
In this talk, Erin Hatzikostas will persuade you to obsess over using stories in everything you do. She'll highlight research, case studies and…well…likely tell lots of stories!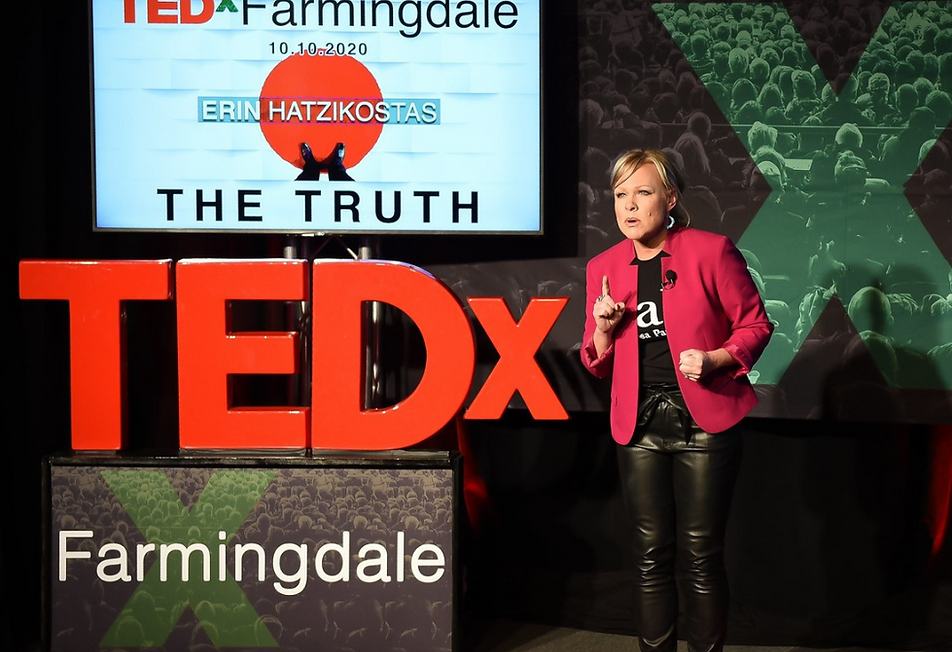 Things you'll learn:
​Understand the neuroscience behind why storytelling is so powerful.
Learn about other companies' turnarounds and success after embracing storytelling.
Be able to understand the most important building blocks for a real and effective story.
The numerous places where you can infuse storytelling (and no, it's not just in a sales meeting)
Start building your own story "library."
WOMEN IN BUSINESS
Women, Don't Change for the Job.
Instead, Change the Job.
​
There's no doubt we still have a ginormous gender gap at the top of the leadership ladder. However, we often ignore the biggest issue: women aren't being held down, they're opting down.

In this talk, Erin Hatzikostas won't encourage you to lean in, but rather to lean in a totally different way. She'll bust down the "Sucky Songs" women often sing to themselves and inspire you to rewrite them by using authenticity as your new secret weapon for success.

Using her framework, "The Six Principles of Strategic Authenticity (H.U.M.A.N.S.)", Erin will show you how authenticity isn't some fluffy unicorn doo-doo, but rather an actionable strategy you can enact immediately. Her talk will inspire you to change the job – and the entire game – so you can opt up, without selling out!
Things you'll learn:
Understand the common "Sucky Songs" that often hold people, especially women, back from rising in their career.
Realize that authenticity is more than a permission, it's a power.
Begin to start seeing authenticity as an active strategy that you can use to increase connections, trust, and intrigue.
Learn a practical framework (H.U.M.A.N.S) you can use to put authenticity into motion immediately.
Activate your own "Authenticity Playbook" with some simple starter "plays."
---
Travels from: Connecticut, MA
Fee: $10,000 – $15,000
Contact Us at Speakers Inc and subscribe to our YouTube channel