Eric McElvenny deployed three times as a Marine and on his final tour, was wounded in Afghanistan after stepping on an IED. Eric suffered the amputation of his right leg below the knee, a life-changing opportunity that began his next journey.
Faced with a physical challenge and an uncertain future, Eric made a promise to himself to run an Ironman Triathlon.
On his journey from the hospital bed to the Ironman World Championships, he realized that the challenge and adversity he was up against and the techniques he used to reach the finish line could be used against the challenges we all entertain. Everyone's experiences differ, but Eric shares what motivated him and how he was able to maintain an overall positive attitude.
How looking at the situation through a different lens played a big rule in that attitude. It's a fun presentation. It's interactive, you'll probably convince Eric to take his leg off and I guarantee you'll laugh at some points and come on the verge of tears at others.
*Eric personally tailors each presentation to fit the needs of the event planner. Eric also loves spending time, both before and after the event, with the team members and audience to form great relationships.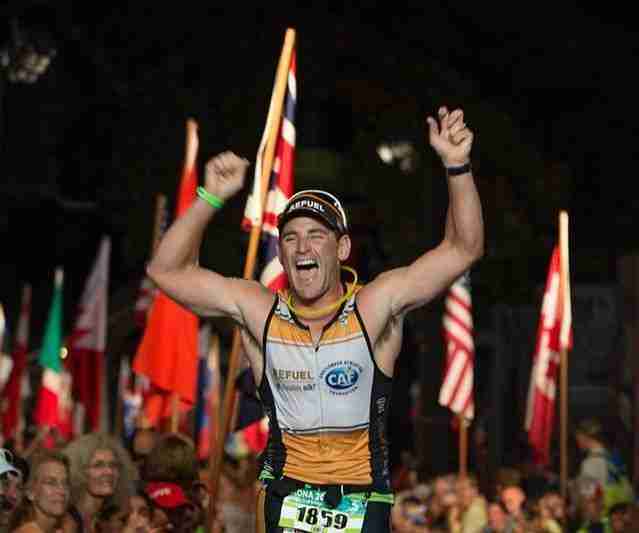 Eric served as an infantry officer in the United States Marine Corps. He was wounded during combat action by an IED. Recovering from the amputation, Eric began with an ironman and now competes in racing events across the country.
Eric McElvenny has become synonymous with inspiration. His story of determination, faith, and hope has resounded in encouragement nationwide. Eric's foundation of faith has been his backbone; his source of truth, hope and strength. In 2013, he completed his military career, and is still an active endurance athlete, competitor to this day. Eric has been able to touch many people with his faith message and overall spirit. His greatest joy is being a husband and father, and he continues to touch and inspire lives as a professional triathlete and inspirational speaker.
EMBRACE CHALLENGES
Format: 45-60 minute Keynote presentation. Eric's signature talk explores the characteristics, traits and actions he found most useful in his journey from the hospital bed to the Ironman World Championship finish line. During this presentation, Eric gives his audience tools and techniques to overcoming life's obstacles through funny and emotional stories.
This program is perfect for:
Corporate Events
Meetings/Conferences
Schools and Universities
Athletic Teams
The audience will leave with:
Skills to adapt to changes and challenges
Tactics on how to develop a mindset to achieve more than just the 'bare minumum'
Ability to look for the 'positives' that come from any situation
TEAM IS THE THEME
Format: 45-60 minute Keynote presentation. Eric emphasizes the importance of a team and the key characteristics that a team should exhibit to work cohesively. He pulls from his sports experience, Marine service and endurance athlete career to bring his audience tools for success.
This program is perfect for:
Team Building Management
Teams Coaches
Sports Teams
The audience will leave with:
Strategies on how to set big goals,
and actually follow through Inspiration to work for what you want
Ability to stop making excuses
---
Travels from: Pittsburgh, PA
Fee range: from $7,500 – $15,000
Contact us at Speakers Inc and subscribe to our YouTube channel