Duncan Wardle is the founder of ID8 and former Head of Innovation and Creativity at The Walt Disney Company, Duncan is a renowned expert in developing innovative, magical brands, engaging stories, and creative experiences that drive results.
As an award-winning global Keynote Speaker, Duncan delivers in-person and virtual speeches and Masterclass Workshops, or Consulting services to empower teams with the tools they need to start innovating today.
He now brings his extensive Disney expertise to audiences around the world using a unique approach to Design Thinking, helping people capture unlikely connections, leading to fresh thinking and disruptive ideas.
Delivering a series of keynotes, workshops and ideation forums, his unique Innovation toolkit helps companies embed a culture of innovation into everyone's DNA.
Duncan is a multiple TED speaker and contributor to Fast Company, Forbes & the Harvard Business Review. He teaches innovation Master Classes at Yale, Harvard, and Edinburgh University.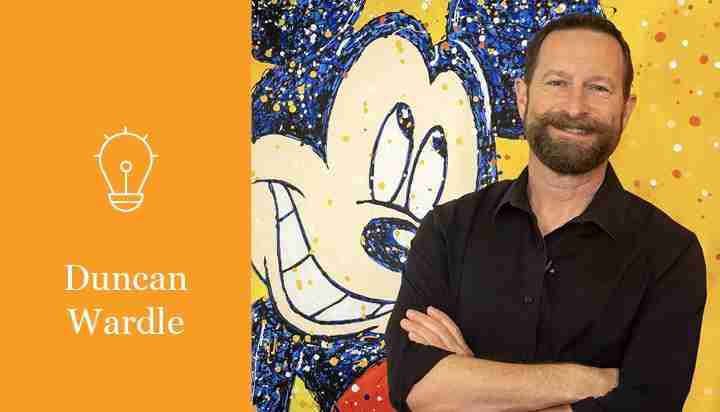 Topics
THE THEORY OF CREATIVITY
DELIVERING CUSTOMER EXPERIENCE MAGIC
EMBED INNOVATION INTO EVERYONE'S DNA.
Expert On:
Duncan's Theory of Creativity™, unique design thinking creative process and tools have created innovative business results for Disney, Pixar, Marvel and Lucasfilms as well as other Fortune 100 companies such as Pepsi, NBA, NBCUniversal, Coca-Cola, IBM, Princess Cruises, and Apple.
Are you ready to unleash a culture of innovation and creativity within your organization?
Topic 1
The Theory of Creativity™
OFFERED LIVE OR VIRTUALLY.
---
You've got the power!
The ability to think creatively is the one core human truth that will remain relevant in the brave new world of Artificial Intelligence. Everyone has the power to be creative!
Duncan will share innovation tools developed from experience with thousands of global Fortune 500 companies and 30 years of experience with the Walt Disney Company, most recently as Head of Innovation & Creativity.
Topic 2
Delivering Customer Experience Magic.™
OFFERED LIVE OR VIRTUALLY.
---
Give your customers exactly what they need.
The best brands in the world may have great products and service, but they thrive because of an unrelenting passion and focus on customer experience.
Duncan will share how to transform your business from product-centric to customer-centric and reap the rewards that come when customers believe the work you do is truly magic.
Topic 3
Embed Innovation Into Everyone's DNA.™

OFFERED LIVE OR VIRTUALLY.rt to the next level.
---
Learn the toolkit for innovation.
None of us are going back to "Business as Usual", and the secret sauce to success lies in the culture you create at work.
But innovation is not something that happens by chance. It's the result of building an environment in which it can thrive, and you have to give people a set of tools that you may use every day to grow.
---
Travels from Orlando, FL
Speaking fee: from $30,000 excluding out of city travel and accommodation where required.
Contact us at Speakers Inc and view Duncan's full profile on WeSpeak Global