An internationally recognized thought leader and social entrepreneur, Dr. Robert Muggah is an unreconstructed academic and practitioner at heart. He is committed to mobilizing hard data and solid evidence to generate lasting social impact.
At a time of global uncertainty and turbulence, Robert is convinced by the power and potential of cities big and small to scale solutions on everything from climate change to public security. For more than two decades he has worked in some of the world's most challenging settings to promote inclusive urbanization, responsible crime prevention, more effective stability and peace operations, smarter migration policy, and the design and deployment of open and accountable gov-tech and civ-tech.
Robert co-founded the SecDev Group to drive digital transformation and reduce cyber threats around the world.
As a principal, he leads the firm's work on digitally secure cities. He also co-founded the Igarapé Institute – an award-winning global think and do tank focused on delivering better public security, criminal justice, data privacy and city resilience. He is a senior adviser to McKinsey's Group and sits on the board of several technology start-ups.
Robert has worked with dozens of national and city governments, technology companies like Google and Uber and international agencies such as the United Nations and World Bank to help them scale success. He is also known internationally for producing evocative data visualizations and predictive platforms to improve safety, track city risks and promote algorithmic transparency.
Robert Muggah is at the leading edge of debates on the future of cities, disruptive technologies, digital and real threats, and the future of liberal democracy. He has over two decades working on the front-lines of many of the world's conflict zones and criminal hot spots. He uses exciting data and visual tools to speak with corporate, public sector, non-profit and academic audiences around the world about global challenges and solutions.
The founder of several think tanks and a senior adviser to the United Nations, World Bank, global city networks, and leading tech and consulting companies, Robert brings practical experience to the table.
He is internationally recognized for bringing Big Data alive to entertain and educate audiences from Davos to TED. Robert infuses his talks with evidence, energy and erudition to reveal what is going on behind the headlines.
AUTHOR BOOKSTORE:
Terra Incognita
Terra Incognita: 100 Maps to Survive the Next 100 Years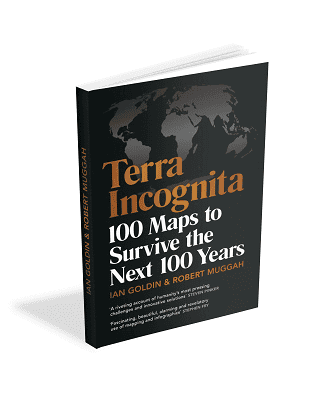 Ian Goldin and Robert Muggah
Map-making is an ancient impulse. From the moment homo sapiens learnt to communicate we have used them to make sense of our surroundings. But as Albert Einstein once said, 'you can't use old maps to explore a new world.' And now, when the world is changing faster than ever before, our old maps are no longer fit for purpose.
Welcome to Terra Incognita. Based on decades of research, and combining mesmerising, state-of-the-art satellite maps with enlightening and passionately argued analysis, authors Ian Goldin and Robert Muggah chart humanity's impact on the planet, and the ways in which we can make a real impact to save it, and to thrive as a species.
Learn about: fires in the arctic; the impact of sea level rise on cities around the world; the truth about immigration – and why fears in the West are a myth; the counter-intuitive future of population rise; the miracles of health and education that are waiting around the corner, and the reality about inequality, and how we end it. The book traces the paths of peoples, cities, wars, climates and technologies, all on a global scale. Full of facts that will confound you, inform you, and ultimately empower you, Terra Incognita guides readers to a new place of understanding, rather than to a physical location.
Topics
We need to take action now to protect the Amazon Basin
The biggest risks facing cities – and some solutions
How to protect fast-growing cities from failing
Mapping Hotspots
How Cities Can Shape the Future of Our World
Flashtalk: Fragile Cities
---
Travels from: Brazil
Speaking Fee: $20,000 – $30,000