Dr. Kyla L.Tennin DM, MBA is a renowned international inspirational and motivational speaker. Her overcoming adversity story by using resilience is a story of courage and how she survived excruciating circumstances. Not for days, weeks, months, or one or two years, but for a decade, without relief of adverse pressure.
Her story is about how she not only overcame adversities wrapped into one large adverse circumstance, but how she advanced while going through intense emotional, spiritual, and physical abuse. Physical due to limitations on being able to eat and practically living in winter weather in her car, which she discusses in detail.
Dr. Kyla L. Tennin
Dr. Kyla has been speaking professionally for several years to tell her story, but began speaking voluntarily for audiences in 2008 "while in" her crises. Starting with local churches, nonprofit organizations, and two universities, including a local nonprofit who had an internal speaker's bureau.
Later realizing her story, even coupled with her professional background skills, talents, and abilities, and later a doctorate degree, applies to corporations and nations, not just individuals, who go through crises, adversities, unprecedented times and need to recover.
Dr. Kyla has addressed international audiences in countries like the USA, Europe, Africa, and Asia. Her aim to "teach people and organizations how to not wait to follow their dreams and accomplish things now because timing will never be perfect and how to not let people or situations rob you of peace, joy, happiness, opportunities, and even your NEXT in life and/or business" led to overwhelming response throughout nations and to the development of her "Inner Peace Model™".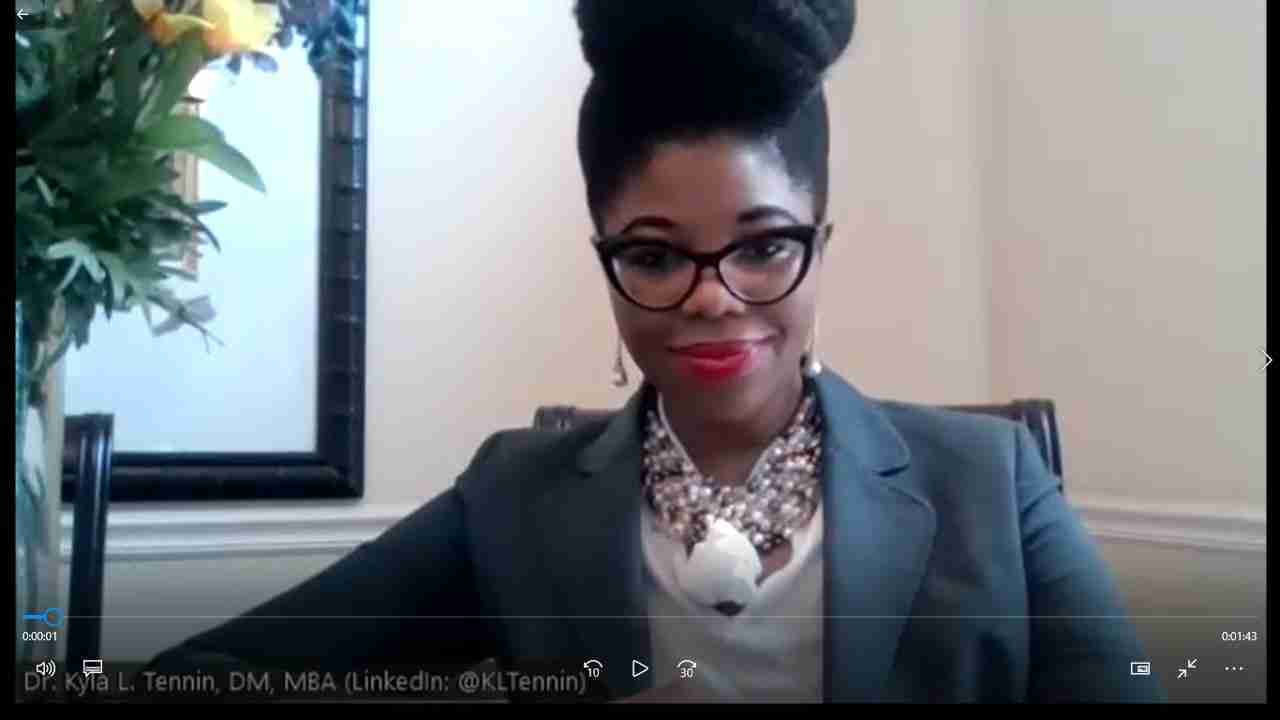 A model she developed as a resilience strategy to survive her crises. Nonprofits and even youth organizations with chapters throughout various counties began to locate Dr. Kyla on social media, asking her to speak and develop trainings and certification programs.
Prayer, perseverance to succeed, and a positive outlook on life (P3) allowed her to advance to her next level in life and transform a painful experience, with enough content for several books and a major motion picture, into something great and global.
Although tempting to be embarrassed or ashamed, Dr. Kyla purposefully looked at opposition as an opportunity for advancement. Her refusal to be a victim because of what she experienced continues to inspire and motivate people, organizations, and employees all over the world.
In November 2009, Dr. Kyla's severe familial abuse and homelessness journey began when she lost everything she owed due to an economic recession. In the face of adversity and people abusing her using various strategies to try to stop her from advancing because of her potential for greatness, she became a doctor with no formal mailing address.
She also secretly built global corporations while sleeping in a borrowed old car, getting ready for the day at gas stations and retail stores, surviving winter weather, working in "coffee shops", and sometimes fast food restaurants as her "office" for the day, and developing patents and other intellectual properties she was unaware she had, triumphing anyway.
"No matter the situation, do not let external calamities get on the inside of you to control you…" Audiences of both men and women sit in awe as Dr. Kyla speaks about how she triumphed while in adversity.
Her message teaches the importance of continuing to advance in life, while in adversity, so you don't lose access to time and opportunities to succeed at things or follow your dreams because timing to accomplish things will never be perfect.
---
---
Travels from: Memphis, TN
Fee range: from $15,000 – $20,000
Contact us at Speakers Inc and subscribe to our YouTube channel