Chris Bertish, Captain's Log #3
18th-25th June
26° 50.56 N, 134° 27.03 W
Pacific Ocean
---
Storms of the mind / Taking the on-ramp – SuperHighway bound / First signs of the Trades or not! Decoy.. / De-stinkify day- Swim day / Tech issues- backups & redundancies / The gift -Mind & shape shifting / The shuffle! / There she blows Captain! / Da 3 Amigos! / We are a moving again Captain- It has begun! / Threading the needle- Hurricane! What the…???
I was meant to get a really "boisterous two days" just before leading into the trades, something that I was a bit concerned about, as Leven my routing/weather guys told me a low pressure that had cleared north of me had a high pressure coming in hot on its heels to wipe it away.. and I was in its path.
One of those things constantly on your mind because it brings with it pretty rough, wild, and unpleasant conditions, which I had seen before and thought I was through the worst of it..I battled to let it go.. so I just pushed West as much and as fast as possible!
Well, clearly that was the right call, as I must have just escaped the edge of it. Fortunately for me, as I got further West than anticipated, I just got the corner of it, and it wasn't as bad as anticipated. 25knts with some 30knt gusts 8-10ft seas, but nothing I hadn't already experienced on the trip already. Pheeew! Stoked and relived.. but it's amazing how we build things up in our mind to be scarier than they really are, and I reminded myself to focus on mental and mindset control like I normally do. Just focus on dealing with what's in front of me and let go of any worry of what is possible to come in the future- as it's not real yet, it's the future and doesn't exist, so just put your head down and focus on what's in front of you and move forward mile by mile, hour by hour, day by day.. and the hard days shall pass and sunny days will follow. It's simple, but sometimes easier said than done..
The following day it cleared, first blue skies in a while since I came out of the fog and now I knew I was there.. the Magic Number – as Mark Sponslor- Stormsurf my Californian weather guru said 130West! The magic number.. so I'm there.. sunny puffy clouds, blue skies, I made it to the trades..
I'm taking the on-ramp to the SuperHighway (trades). Hawaii here I come.. NOT!!! Decoy!
Latest weather update confirms there is now a low pressure up North, and also one developing South of me and I'm slap bang sandwiched in the middle of the two.. meaning.. the on-ramp to the superhighway is closed!
Accident on the HI Superhighway & will take a couple days to clear, no entry for me! In fact I get zero wind for 36-48hrs! Are you kidding me???
I started to get super frustrated as that means two extra days on the other end to finish, especially when you have been working so hard to get to a goal.. Almost a month to get here and now it's closed for business, what!
I've learned to what I call "Periscope out" in these situations before it consumes your thoughts negatively and you get really frustrated, to-shift your mindset and perspective and reframe how you are it.. Control the controllable, show up, give it your best, and let go to the rest! See the challenge as an adventure and reframe it as a positive, like a stoic would, and see the gift in the obstacle.
Stop, breathe, step back out of the situation, celebrate the small victories, where you are and how far you've come. Then shift, make necessary changes/improvements, grow, get ready to move forward again, into the next part of the journeys but stronger, wiser and with a new and improved perspective
As the wind died, I knew I needed to milk it until there was nothing left… and it was going to be a Slow day, going to calm…
They say "A calm see never made for a good sailor," but once you've learned to sail in a heavy weather most of you realize that a Light wind sailor, is a good sailor.. if you can sail in super light breeze under 3knts and keep your craft moving, that takes skills.. so that became my mission…
Slowly, slowly catch a monkey.. slowly slowly get those miles, one by one, until they add to many! And that's what I did until I got almost 20miles that day, till it went dead calm that night..
As I had focused mentally on not getting Frustrated.. I set my very long "To do list" of maintenance/ chores and all repairs you don't get a chance to do when you on full time and just decided to take the time to appreciate where I was.. dry out everything! Embrace it, relax, recover, repair, step back, relook, improve, shift, move forward, rested and ready for the next leg.
See the gift in the challenge- it's these very special, brief wondrous moments that are fleeting and leave you in wonder, grateful, so just stop, breathe take it all in and enjoy / appreciate it all..
These journeys give you immense clarity and perspective on life – half the reason for these journeys … simplify, declutter, crystallize your vision and what's important in life / align yourself back with yourself your mission and vision moving forward and those you want to continue to share the journey of life with.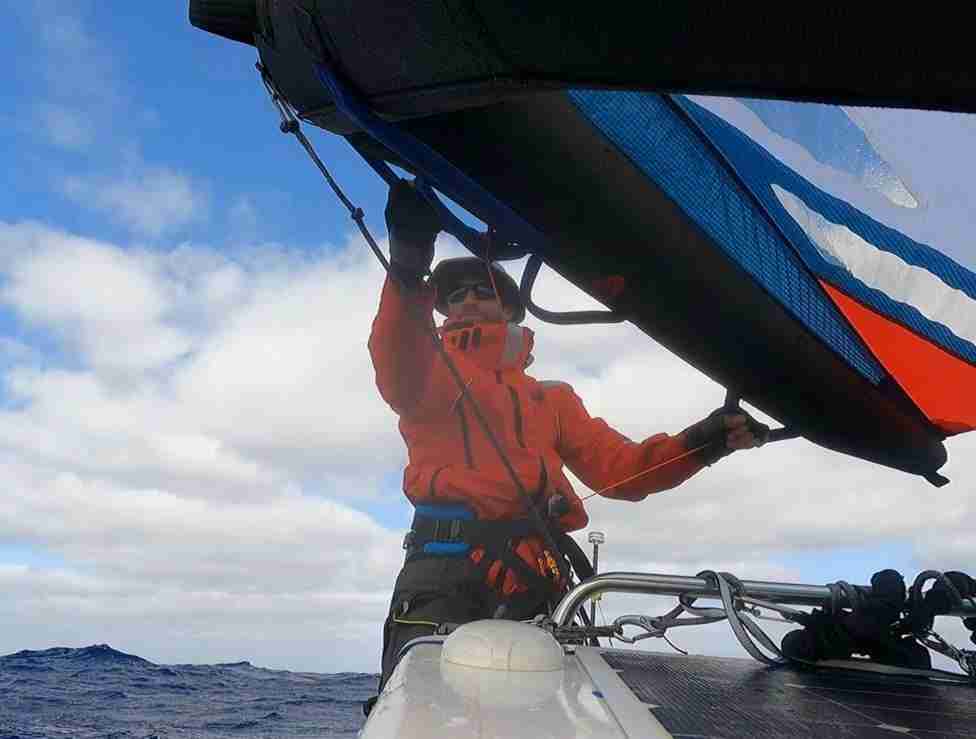 So I swam, got de-stinkyfied. Went on the Sea anchor, cleaned under the craft, the foils, centerboard, the rudder and got some epic video footage.
The Shuffle- after getting through most of the list, as you never get through all of it.. it was time to pull the big stuff out onto the deck to repack, organize, and weight the craft so it's better balanced.. got more food & some emergency water from the forward – outside deck compartments, to get ready for the next part of the journey, as once I get into the trades, I won't have a break to do this.. so now's the time..basic repairs done, a couple improvements and added carabiners, latch points for the wings..
Time to upgrade, learn, evolve, test, move forward more efficiently.
There she blows Captain!- the Plastic and polystyrene out here around this point have been crazy.. usually I have been seeing 1-2 pieces of floating pollution, now I'm seeing 4-5 a day! That is insane!
Had a fishing rope get wrapped around one of my foils, which I pulled up and am bringing with me.. multiple plastic bottles in the distance I have passed in the last 5 days.
Yesterday, as I woke to the sunrise, sheet glassy blue water with some small rolling swells rolled under a deep blue trade wind sky… and not even 100m away was, a white piece of something.. I thought that's it.. this one, while it's calm, it is mine..managed to just get over to it and grabbed it – big piece of polystyrene! Crazy, so I packed that away too and got on with the morning, final prep before the wind was due to fill in again.I got everything stowed away, my little sleeping hollow a little more comfortable than before.. so now I'm like a squirrel sleeping on his nuts, as I made a bed of food and the little foam piece I sleep on..
winning!
Ok ready to roll..
Felt the first breeze touch my skin and ripple on the water.. the start. Make a quick coffee, set up the wing and start moving slowly.. oh yeah!
We are a moving again Captain! Ships ahoy!
With or without the wing up, I'm still moving forward, so I took the last quick luxury of a jump over the side to explore the deep, attached to the craft with my trusty 15ft stay-covered big wave leash.
As I come up for air under my flying impifish with the foils crystal clear from below and my Orca painted underbelly to scare away the sharks, I see something darting off out the corner of my eye.
Holy smokes it's a tiny little fish.. my first ocean friend.. hold on a second there are two little guys, no three.. it's the 3 Amigos! Haha
yes so now I have 3 little fish that have joined me.. when I get a chance to swim again when things get lighter again I will let you know if they could keep up.. hope so! Haven't seen any animal life in 5 days, just the 3 Amigos! Awesome, some company.
The one thing I have been battling with a lot is the tech charging and connection issues as very little is designed to work on a craft my size, so small, that's moving around all the time. As she's like a little cork bobbing around which makes it difficult to hold a satellite signal at all.. and all my cables are going – they get eaten by the salt air.. and the ports for all your units too.. so I'm already on my backup iPhone, 2nd cable on both other devices / sat phone and Inreach explorer.
My main Sat Comm System is battling to connect, so I'm on my backup BGAN explorer and using my Goal Zero battery with separate solar panels to charge my basic devices (iPhones / Sat phone/ music/ lights/ go pro's, etc), so it doesn't draw from the main battery as I need it for Autopilot / navigation and water.. so many things to juggle, monitor and manage, ALL THE TIME!
Aaah, breeze starts filling in and finally the first signs, signals, wind and weather of the Trades. It has begun!
I can breathe a sigh of relief. I made it.. it should all get easier from now on, I hope.
Just a quick update with Leven as I'm getting moving … he mentions a Tropical depression South of me possibly coming up my way that he is monitoring, but hasn't turned into a Hurricane yet! Awesome are you serious? What the…
It should fizzle our before it gets to you, but just to let you know we are monitoring it.. Fantastic!
Control what you can, let go of the rest, move forward and chase the sun West!
Until we meet again next week.. let's hope it fizzles..
The week By the Numbers:
Distance from Start- Santa Cruz without the wiggles in between -1120NM
Distance to Hawaii – 1380NM without wiggles included bearing 162degrees True.
Creatures Seen: very little
Ocean Pollution -Plastic & Polystyrene seen: The most of the whole trip.
18th June: Small plastic bits / small styrofoam
19th June: Small plastic bits / small styrofoam & one fishing ball
No sea life the last 7days
Almost daily for the last week – these same three birds- the Layson Albatross, the black footed Albatross & the black stormy petrol
20th June: 4 pieces plastic & plastic floating can
21st June: Floating old plastic bottle
22nd June: another plastic Gerry can-3 floating UFO's
23rd June: 27 33 621 N. 129 47 299W
Water temp: 19.4 degrees Celsius
24th June: two pieces / styrofoam
25th June: two bits plastic- paddled and caught big piece polystyrene
26th June: 27 33 621 N. 129 47 299W
Water temp: 21.4 degrees
Plastic one small item / styrofoam
No sea life besides one – line blue bottle!
Very little bird life the last 3 days too. Just the small stormy petrel
If you're enjoying these Logs/following from Chris Bertish with the journey and are inspired/impacted, please considering supporting the journey by donating at https://chrisbertishfoundation.org/chris-bertish…/
---