Alison Canavan has been named one of the top 8 transformational coaches in the US by USA Today for 2021. She is a UCLA trained Mindfulness Facilitator from The Semel Institute of Neuroscience and Human Behaviour, a Master NLP Practitioner, HeartMath facilitator, Nutritional coach, Raw Foods Master and an award winning author of Minding Mum – It's Time to Take Care of You – the world's first 360 selfcare book for mums focusing on Mums health and wellbeing post birth.
Alison's workshops and talks include incredible tools for transforming and understanding anxiety, depression and addiction – helping people to overcome their pain and suffering. Her heart-led business and 360 approach to wellbeing is innovative, inclusive and accessible to all. As a meditation teacher she understands the power of a daily mindful approach to living. She believes that to create peace in our life we must carve out time for selfcare and go within and create space to heal, learn and grow.
During quarantine her online workshops helped thousands of people all around the world cope with the increased waves of anxiety and fear. Her workshops entitled "Keeping Energy and Immunity High" and "The Power of Presence" have provided tools and support leading to incredible transformation in the collective.
Alison began her professional career as one of the world's top fashion models at the tender age of 15 and spent over 20 years traveling the world and walking the runway for world-renowned designers. During this time, she also battled with depression, anxiety and addictions. She transformed her own life using simple but powerful tools like meditation, mindfulness, movement, coherence training, breathwork, food and mindset techniques.
Alison developed an interest in nutrition after witnessing the destructive nature and relationship that people had to health, wellbeing and food during her time in the fashion industry. She began studying nutrition in 2009 and graduated with distinction in Nutrition and Health Coaching from the Irish Institute of Nutrition and Health (IINH) in 2015. She also holds an Advanced Diploma in Diet and Nutrition therapeutics and has a Raw Foods Mastery level 3 where she studied at The Life Change Health Institute.
Towards the end of her modeling career she fully devoted her time to her greatest passion: true health and wellbeing for all – helping people to join the dots in their own lives. She empowers people to do this through her fun, uplifting and interactive workshops and talks worldwide.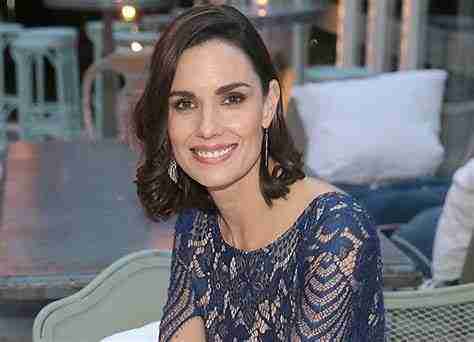 Alison has become a highly sought after motivational speaker and contributor to the wellness space. She spoke at The Mindful Life Conference in Washington in April 2017. She has lectured in Trinity College in Ireland on the module of Motherhood and Mental Health. She delivers talks on stress in the workplace to CEO's and business leaders across the world and in June 2014 she chaired and spoke at the first-ever Barnardos Parental Mental Health Conference in Ireland at Croke Park.
She created a "Wellbeing in the Skies" series for Ireland's national airline Aer Lingus. This series looks at gratitude, meditation, anxiety, fear of flying, jetlag, a kids wellness corner and much more.
Alison continues to contribute to Podcasts, Newspapers, Magazines and TV and Radio shows around the world including The Sunday Independent, Mindful magazine, Spirit and Destiny, The Daily Mail, Ireland AM, The 6 O'Clock show, Pregnancy and Parenting magazine, Oh Baby, VIP Magazine, Positive Life, You Magazine, Voyage LA, The Cutting Edge. Podcasts like The Living Proof, Real Health with Karl Henry, The Good Glow, Chasing Passion, The Courageous Life, Lovin.ie, Mindful Mama Podcast, Sandra Rea's Fiercely Spiritual podcast, Alive and Kicking Newstalk, Motherly, IHeart radio to name but a few.
INTERNATIONAL MINDFULNESS SPEAKER
Alison is a popular and powerful speaker for organizations around the world.
From keynote speeches to workshops, Alison looks at 'The Full 360' approach to our health and wellbeing, encouraging people to look at all areas of their lives and not just one or two. She is passionate about human potential and helping people to reach theirs. She shares the secrets of the universe and the art and science of making change happen.
These tools and training help people connect, go within and create lasting change through awareness, intuition and everyday small behavioral changes. This makes it easier and more manageable to change habits and try new things and a life of greatness and joy.
Companies who bring Alison to speak invite her back again and again.
KEYNOTE TOPICS:
The Art of Inspirational Living – HEART
The Art of Inspirational Living is a H.E.A.R.T based program that covers so many of the pain points in today's world like stress, boundaries, focus, resilience, time, values, mindfulness and coherence. It encompasses a Full 360 approach to living a healthy, happy and successful life for each individual.
Key takeaways:
• Aligning with your why and your values
• Techniques on living more mindfully, staying grounded and coherent
• Better decision making and daily habits
• Inspired action through awareness
• Boundaries and living authentically
• Your time, how to value it and why every choice counts
MORE ENERGY – LESS STRESS
People think they need better time management, but they actually need better energy management. In this inspiring talk Alison looks at energy as a currency and brings the audience on a journey of understanding how you spend your energy each day which determines the quality of life that you have.
KEY TAKEAWAYS
The Power of consistency
Starting your day strong (daily rhythm)
My Stop, Catch, Change Technique for interrupting behavior patterns
Coherence techniques
Understanding energy
Stress reduction
The power of the breath
Why movement matters
The importance of letting go
The Full 360: The Mindful Path to Better Living
As a mindfulness teacher, Alison believes that awareness in all areas of our lives creates space for change. Until we fully accept who and where we are in this moment, we can't take steps on the path to where we would like to be. Bringing mindfulness gently into all areas of your life helps to bring trained awareness to the forefront, empowering you to make better decisions, become less reactive, less stressed and more content.
The Power of Presence
Using the power of mindfulness, awareness and intuition we can create positive change leading to the real results we truly desire for ourselves, our business and our loved ones.
In this talk/presentation Alison explores tools and techniques to help us tap into our potential and our true intuition.
Key takeaways:
Exercises to help activate the vagus nerve (also covering what this is) in the body and why it's important
Mindset
Mindfulness techniques
Coherence Practices
Stress management
Navigating change
Building resilience
---
Travels from: Texas, USA
Fee range: On Request
Contact us at Speakers Inc and subscribe to our YouTube channel