The Power of Relationships is a totally unique keynote presentation that follows Alex van den Heever and Renias's 25-year journey working together in the world's most hostile environments – tracking lions, leopards, grizzly bears, jaguars and wolves.
BUILDING TRUST – COHESION – PRODUCTIVITY
Audiences learn how to build trust in difficult circumstances, dismantle implicit bias and create a culture of belonging in the workplace.
Following his studies in business management, Alex became the youngest person to ever qualify as a Senior Wildlife Tracker in South Africa.
Renias was raised as a hunter-gatherer in the wild north-eastern part of South Africa. In the 1980s, he was a member of the tracking team which settled the now-famous leopards of Londolozi.
Together these world-renowned trackers forged a relationship that is said to be a 'model for democratic South Africa'.
With humour, sensitivity, and humility, Alex and Renias demolish the walls that isolate each one of us. They provide the keys to unlock the latent potential of diverse working relationships.
They have presented in South Africa, America, Australia, England, Singapore, China, Brazil, Chile and Peru. Their story has been featured on several TV news documentaries, most notably CNN International.
Together they co-founded the Tracker Academy, an internationally award-winning NGO that trains professional wildlife trackers all over Africa.
Alex and Renias have co-authored two bestselling books, called Changing a Leopard's Spots and the Tracker Manual.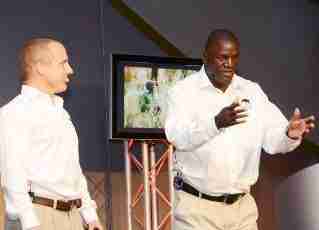 Presentation Highlights:
1. Renias saves Alex from Leopard attack
2. Alex visits Renias's village, Dixie
3. Renias travels to England – his first trip from the bush
4. The poacher.
You will gain the following from the presentation:
How to build trust in difficult circumstances
How to create an environment conducive to mutual understanding
How to get to know your colleague from another culture
How strong culture creates big benefits
How to leverage the power of language
How to realise the power of diversity in the workplace
Relationships & Team Work in the Workplace
Alex and Renias tell their story of a path to profound mutual understanding. Their story is a tale of contrasts: white and black; man, and boy; apartheid and unity; third world and first world.
Alex uses the real-life story of his life as a game ranger at Londolozi Private Game Reserve and his relationship with tracker Renias Mhlongo to convey transformational wisdom and insights.
Alex van den Heever will demonstrate how to break down cultural barriers utterly in the work place and foster generosity of spirit among people. It is not a methodology they offer but rather an ability to inspire the audience and open their minds to their potential as individuals and as a team.
Deloitte Africa had the pleasure of securing Alex van den Heever and Renias Mhlongo to present at the Deloitte Africa Leadership Summit
'Outstanding' simply does not do justice to their presentation. Alex and Renias enlightened our senior audience of partners and directors to the power of relationships – in nature, society and business.
---
Travels from: Kruger National Park, South Africa
Speaking Fee: $10,000 – $15,500
Contact us at Speakers Inc and view full profile on WeSpeak Global